Criterion Adds 150 Titles To Hulu Plus; 800+ Films To Be Streaming Soon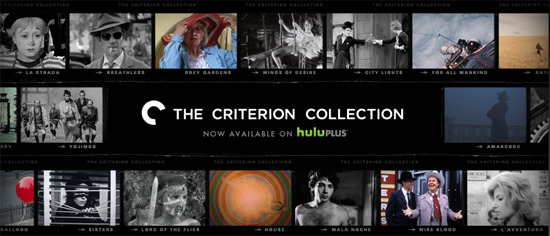 And with this, Hulu Plus is suddenly an essential subscription. Criterion added 150 titles to the paid subscription service yesterday, and will soon have 800 of the company's library titles available to stream for those who pay $7.99 per month. Eight. Hundred. Films available now include Hausu, Ikiru, La Strada, Jules and Jim, L'Avventura, The Battle of Algiers, The Blob, George Washington, Grey Gardens, High and Low, and over 100 more.
The details, if you need more than that, are after the break.
Important details, from Hulu:
Hulu Plus has commercial breaks, but Criterion films will be presented with ads up front, and no breaks in the films.
Supplemental features (commentaries, interviews, making-of features, etc) will be available over time.
Some titles will be available free on Hulu each month, and all will play on any device supported by Hulu Plus.
For now, this is US only. Sorry.
Some of the films released will be movies in the Criterion library that haven't had proper release in a long time, if ever. Jean-Pierre Melville's Le Silence de la Mer is mentioned.
I'm not yet certain whether the entire library will be available at once, or if Hulu Plus will cycle through the hundreds of titles. Either way, it's a steal.
I'll let the other important stuff come straight from Criterion:
Starting today, there are more than 150 of our most important films online on the Hulu Plus subscription service. Over the coming months, that number will swell to more than 800 films. For the true cinephile, this should be a dream come true. On Hulu Plus, you'll find everything in our library, from Academy Award winners to many of the most famous films by art-house superstars like Ingmar Bergman, Akira Kurosawa, and Federico Fellini to films so rare that they have never been seen in the U.S. in any medium. Some of these lost gems have been so hard to see that even most of the Criterion staff will see them for the first time only when they go live on Hulu Plus! Each month, we'll be highlighting a mix of programs, centered on themes, directors, actors, and other creative artists, as well as celebrity picks, and mixing them with deep cuts from the catalog that will be unknown to all but the most prominent cinephiles in the world.
And finally, why Hulu? In short, because they get it. As their regular viewers know, the Hulu user experience is exactly what it should be: simple, elegant, and focused on the content. Hulu has built their brand on letting the shows and movies take center stage. Nobody does it better, and we're honored that they see Criterion as a good match for their audience. We're going to do all we can to make the experience of Criterion on Hulu Plus an exciting adventure for all of us, so please check it out and let us know what you think.
Looks like this means the Criterion films will be disappearing from Netflix.
I once spent hundreds of dollars every month on Criterion discs. This deal was prompted in part, says the company, by those who wanted a subscription service for everything Criterion released. I used to create my own subscription by just buying every title the company put out, whether I'd seen the film or not. And after spending updwards of a hundred bucks for some of Criterion's single-film laser disc offerings, that price seemed acceptable. I've seen maybe five films released by the company that didn't do much for me, but blind-buying Criterion releases opened my eyes to a great many films I might otherwise have ignored.
Now you can see a curated collection of many of the best films in the world for eight bucks a month. If you could watch the entire library in one month, that one be one penny per film. If you could teleport the laserdisc-buying 1994 version of me forward fifteen years to now, my head would explode like the opening scene of Scanners.