The Farrelly Brothers Talk 'The Three Stooges'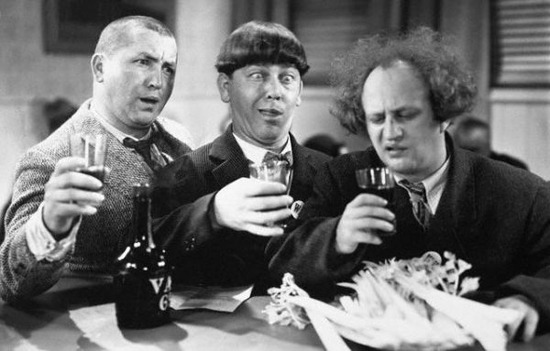 The Farrelly Brothers are in promotion mode for their upcoming film Hall Pass, but the movie everyone keeps wanting to know about is The Three Stooges. Namely: What the hell is up with that thing, anyway?
Last we checked in on the film, we had learned that the casting of Johnny Knoxville and Andy Samberg in the film were strictly rumors, and that the film remained "wide open to everybody". Now they've shared additional details about the picture, which you can read after the break.
Collider reports that there's still no cast in place but the Farrelly's have "been impressed with a few people that have auditioned". The Farrelly's also went into detail about what they hope to achieve with the film:
This isn't a Farrelly version of The Three Stooges. This is The Three Stooges. And, it's not a biopic, by the way. We've written three new episodes. The movie is actually three episodes that go back to back to back. Each one picks up where the other one left off. We want you to look at it and say, "It's Mo, Larry and Curly!," so we have very high standards on this route.
Having high standards is great, but what can possibly be gained from a straight imitation of a vaudeville comedy act, especially one that was so heavily built around the particular trio of comedians at the center of it? Either we end up stuck with a stale, pointless replica or something that lacks any identity of its own. If somebody can think of a film that took this route without disappointing/annoying fans of the source material, I'd love to hear it.
Also in the interview, the Farrelly's offered their perspective on the various difficulties of getting the film made:
It's a terrifying project for actors to try to play such comedy icons, first of all. That's a little dangerous. I think the studio also looks at it and says, "Oh, The Three Stooges. That's for guys. That's not for girls." In their minds, you only have half an audience to choose from, but we don't necessarily see it that way. We see it more like when we made the movie Dumb and Dumber. It might appear that it's for guys, but girls really gravitated towards it too because it's funny. We're hoping for the same thing here. I think girls will appreciate The Three Stooges humor too. I think the studio was a little scared of that.
Next we have an interview with Badass Digest, which has them describing the sort of gags we can expect in the film.
The gags are so complicated and so physical. The set-up to do a one-minute gag could take a day, but it's gonna be worth it. We have bells falling off buildings onto nuns' heads.
Want to hear Peter Farrelly act out said nun-related gag? The interview audio has him excitedly laying out the whole sequence, bit by bit. As little faith as I have in the production, there's something to be said for enthusiasm.
Shooting on The Three Stooges begins this spring (in April). Expect some major casting decisions to be made soon.