Roland Emmerch Talks Anonymous, Foundation And Independence Day Sequel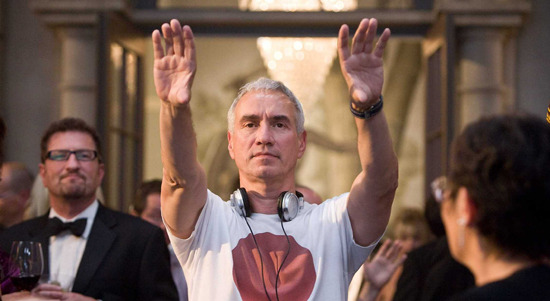 Roland Emmerich holds a position unique among genre filmmakers in that he is the target of constant jibes and disparagement, but still makes films that people see on the promise of pure spectacle alone. He is currently finishing up the Shakespeare conspiracy thriller Anonymous — not exactly the subject matter you'd expect him to tackle — and is mulling future options. Sadly, an Independence Day sequel isn't yet in the cards, and it looks as if his adaptation of the Isaac Asimov Foundation novels is still crawling forward.
I say 'sadly' with respect to an ID4 sequel, because while I don't think we really need another movie to make that standalone film into a series, that's much better subject matter for the director than Foundation. Really, I just want Foundation to go to a far more story and character-capable director, and if the distraction of an ID4 sequel is what it takes to achieve that, so be it.
But, alas, speaking to Empire, he says,
Independence Day 2 is nowhere... It's back and forth, back and forth. There's no script because I don't want to write anything before anything starts.
He does say that 'one day it will happen,' but that's all. More likely at this point is Foundation.
We've hired a production designer and it's mainly now to find out what the movie will cost. It'll take us until the end of March, then we'll decide. The studio's happy with the script, but now's the time that the numbers count. I want to make a movie that's very different from other science-fiction movies and I don't want to have the burden of too big a budget.
While he'd said before that he wanted to basically make a heavily CGI, mocapped version of the story, I wonder if working on Anonymous has changed his outlook? Foundation is a tale that is not big, flashy sci-fi at all — it is politics and character relations. Mr. Emmerich seemed like the wrong director on every level when first announced. I haven't changed my mind about that, but I wonder if he is really considering a different approach. Perhaps his scuttled low-budget alien-invasion movie led to some new ideas, too.
Meanwhile, about Anonymous, he said,
Sony was very happy with the results of 2012 and wanted to keep me at the studio... So I said 'Okay, do Anonymous with me.' It's great when you're coming from a big movie and it feels like you reconnect with why you're making movies. The Patriot was a different kind of movie, but similar in a way – I just like to dive into another time. We cover the Essex Rebellion so there is some action in it, but the biggest action is in Shakespeare's plays.
Anonymous deals with the ages-old question of whether William Shakespeare's plays were actually written by William Shakespeare, and has some appeal simply because it seems so far from Roland Emmerich's wheelhouse. It opens in September, so we'll see then how he fared — and if it suggests anything for Foundation.