See How Armie Hammer Became The Winklevoss Twins In 'The Social Network'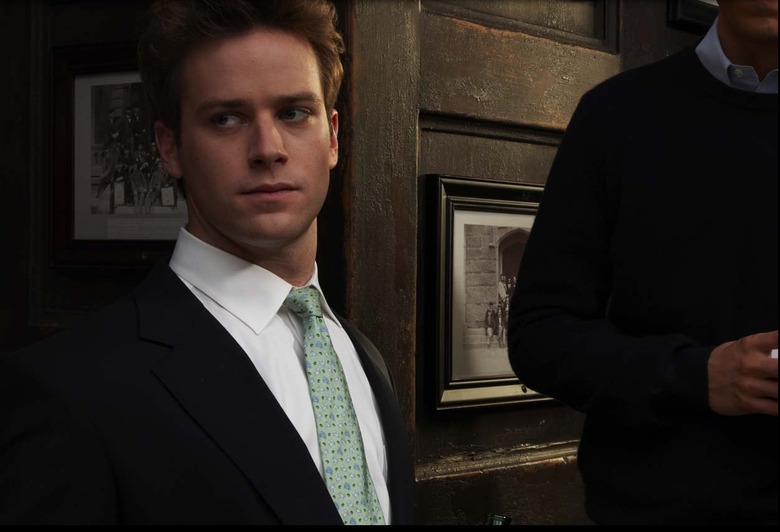 Once upon a time creating onscreen twins using one actor was a matter of careful staging with body doubles, and controlled camera work and split-screen editing allowing one actor to play two roles. Now there are more complex, perhaps more subtle ways to achieve the same effect. So here is a pretty detailed look at the measures undertaken by David Fincher and crew as they tranformed Armie Hammer into the Winklevoss twins in The Social Network.
Vulture has this extensive behind the scenes clip, which shows how David Fincher worked with Armie Hammer and Josh Pence to create the raw performances that went into the roles. I like this clip because Josh Pence's performance is an integral part of this performance, and it is good to see him given some, er, face time. Frankly, while face replacement is obviously essential for some shots, it seems like some of the scenes could have been constructed with simpler split-screen work. Perhaps there's more of that than the clip shows. Fascinating stuff nonetheless.
It is amusing that Armie Hammer references The Fly when talking about the face-scanning rig employed for The Social Network, because the previous standard-setter for twinning effects was directed by David Cronenberg. So , just for reference, here's a behind the scenes clip from David Cronenberg's Dead Ringers, which in 1988 represented the ultimate blend of state of the art effects and powerhouse performances from Jeremy Irons. If I remember correctly, the old Criterion DVD has a much better look at the twinning effect, but you can see a bit of the old-school approach here, starting at 5:32.