FilmDistrict Will Distribute 'Don't Be Afraid Of The Dark' In The US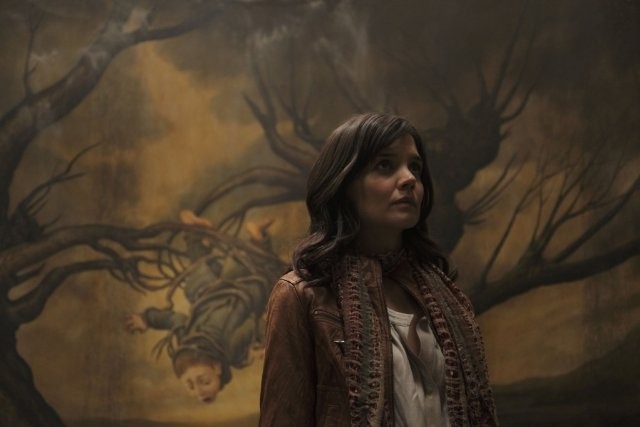 The orphaned Miramax films are finding new homes. Last week we heard that The Debt, John Madden's film that is (partially) about a group of Mossad agents tracking a Nazi war criminal locked distribution via Focus Features. Now Don't Be Afraid of the Dark, the remake of a '70s TV chiller co-written and produced by Guillermo del Toro and directed by newcomer Troy Nixey, will go out to US screens via the new company FilmDistrict.
I'm quite happy about this. We loved the footage shown last year at Comic Con, and the film has played well at some small festival appearances. It looked for a while last year like Disney was going to directly distribute the film, and while I wanted to see it hit theaters that didn't seem like the best way to do it. But Guillermo del Toro has a good relationship with FilmDistrict's Bob Berney thanks to Pan's Labyrinth, so hopefully this will work out for all involved. FilmDistrict also has James Wan's Insidious and Nicolas Winding Refn's Drive.
The teaser trailer and info for Don't Be Afraid of the Dark are after the break.
DON'T BE AFRAID OF THE DARK
Rating: R (for violence and terror)
Cast: Katie Holmes, Guy Pearce, Bailee Madison, Jack Thompson
Director: Troy Nixey
Producers: Guillermo del Toro, Mark Johnson
Executive Producers: Stephen Jones, William Horberg, Tom Williams
Screenplay by: Guillermo del Toro & Matthew Robbins
Based on the teleplay by: Nigel McKeand
Producers Guillermo del Toro ("Pan's Labyrinth," "The Orphanage") and Mark Johnson ("Chronicles of Narnia") join forces to deliver "Don't Be Afraid of the Dark," a tale of hair-raising, spine-chilling horror.
Sally Hurst (Bailee Madison), a lonely, withdrawn child, has just arrived in Rhode Island to live with her father Alex (Guy Pearce) and his new girlfriend Kim (Katie Holmes) at the 19th-century mansion they are restoring. While exploring the sprawling estate, the young girl discovers a hidden basement, undisturbed since the strange disappearance of the mansion's builder a century ago. When Sally unwittingly lets loose a race of ancient, dark-dwelling creatures who conspire to drag her down into the mysterious house's bottomless depths, she must convince Alex and Kim that it's not a fantasy—before the evil lurking in the dark consumes them all.