Watch A Great Breakdown Of The Visual Effects Work In 'Hereafter'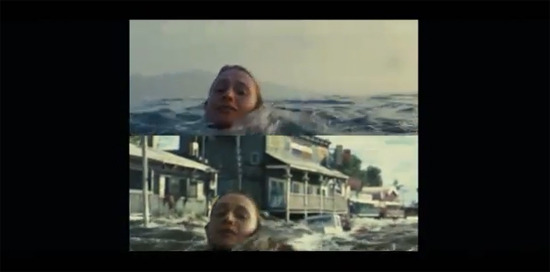 When the full suite of Oscar nominations were announced a few weeks ago, squatting smack in the middle of the final five for the Best Visual Effects category was Clint Eastwood's film Hereafter. And a great many people went...  'huh?'
There are obviously effects in the film, which recreates the Indonesian tsunami from 2004. But against many of the other major effects players for 2010, the nomination still seemed strange. (The other nominees are Alice in Wonderland, Harry Potter and the Deathly Hallows Part 1, Inception, and Iron Man 2.)
Here, then, is a five-minute video clip that offers an extensive, and often impressive breakdown of the film's many effects.
Setting aside any argument about whether the film should win the Oscar, you'll have to admit that this clip makes a strong case for the nomination. (I'd still rather have seen Scott Pilgrim or one of a couple other options get the nod, but it's too late for that.)
Reels like this are also wildly impressive in their own right. Some of my early interest in film came via the realization that movies had the power to create absolutely anything. I've always loved seeing how the tricks are done, and this clip is revelatory when it comes to showing all the elements that went into compositing any one shot in the film.
You can see just how much effort Scanline VFX (300, 2012) and VFX supervisor Michael Owens put into the film, so set aside questions about awards and take in the many looks behind the curtain offered here.
And, by the way, Germain did a pretty good job of calling how the VFX Oscar nominees would shake out, missing only Iron Man 2, in whose slot he placed Tron Legacy.
[Anne Thompson via Movieline]