Jay Roach To Direct Obama-McCain Election Drama 'Game Change'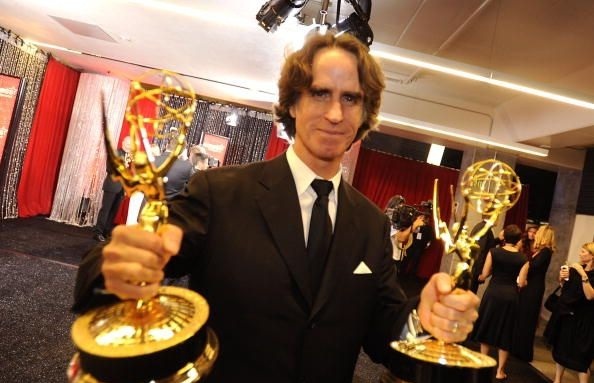 What do Austin Powers, the Fockers and Barack Obama have in common? As of this weekend, they're all characters directed by Jay Roach. HBO Films has confirmed that Roach would be directing Game Change, about the 2008 presidential race. The script will be adapted by screenwriter Danny Strong (a.k.a. Jonathan from Buffy the Vampire Slayer) from John Heilemann and Mark Halperin's 2010 book of the same title.
Heilemann and Halperin's book is a fairly thorough detailing of the 2008 campaign, covering both parties' primaries as well as the Obama-McCain race and including interviews with over 300 people involved in the election. It caused a bit of a stir when it was released, as it revealed previously unknown details about both parties. It sounds to me like better material for a miniseries than a film, but we'll have to wait and see how the project plays out.
As The Wrap points out, Game Change will be Roach and Strong's second time working together on an HBO film about a presidential election. Their previous effort was 2008's Recount, which dramatized the 2000 election and subsequent hanging chad fiasco. (Bet that's the first time you've heard that phrase in a few years.) Recount won three Emmys, including Outstanding Made-For-Television Movie, as well as DGA and WGA awards for Roach and Strong, respectively. It's no wonder HBO wants them back for this picture.
In fact, it's not just HBO who seems interested in making presidential movies with Roach. The last time we heard about a Jay Roach project, it was in December, when we reported that he would be directing a political comedy about the 2012 national election. Will Ferrell and Zach Galifianakis were signed on at the time to play opposing presidential candidates, and the film was scheduled to be released in time for the actual 2012 national election. There hasn't been much news about that project since, so it's unclear whether Roach plans to direct both or whether he'll be taking on Game Change instead of the untitled Ferrell-Galifianakis project. What does seem clear is that Roach is currently the go-to guy around Hollywood for movies about American presidential politics.
Share your thoughts: Which project would you rather see from Roach? Are you excited to see Roach and Strong reunite for Game Change, or are you totally bummed that they skipped right over the 2004 Bush-Kerry race?