Confirmed: Marion Cotillard Cast In 'The Dark Knight Rises' [UPDATED]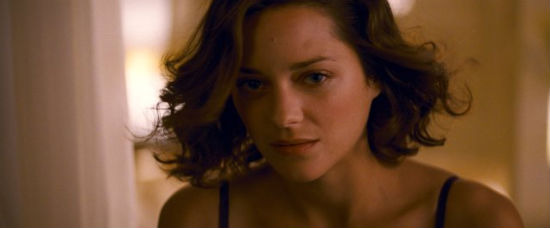 UPDATE: THR Confirms that Marion Cotillard is in talks for the film, though nothing is set yet. Christopher Nolan is looking for the film's love interest, also meeting with Kate Winslet, Rachel Weisz and Naomi Watts in recent weeks. Scheduling is the issue, and THR says "The plan is for Cotillard to start shooting mid-June in London, film all summer in L.A. and Pittsburgh and wrap mid-November in New York." More details as we get them; original article follows.
One of the largest newspapers in France, Le Figaro, is the latest source of The Dark Knight Rises speculation. They're reporting that Oscar-winning actress Marion Cotillard, who previously worked with director Christopher Nolan in Inception, will be starring in the final Batman film. Being as Nolan has already cast two other actors from Inception in The Dark Knight Rises, Tom Hardy and Joseph Gordon-Levitt, this story feels more solid than most other rumors. Read the translated article and more after the jump.
Since Le Figaro article is in French, we don't have a perfect translation (maybe one of our readers speaks French and can do it in the comments?) but Batman News, who alerted us to the story, translated the story through Google as follows:
Marion Cotillard in "Batman 3?. The actress, who is expecting a child in the spring with Guillaume Canet, will be scarce this year. She'll do a single film and her choice fell on Batman 3. This blockbuster produced by Warner Bros.. enables her to work with the director Christopher Nolan, with whom she had turned very successful sci-fi Inception. Marion Cotillard will join the filming this summer in Los Angeles. She will share the bill with Anne Hathaway.
As early as November of last year, we heard tell that, since Rachel Dawes kicked the bucket in The Dark Knight, Nolan was looking for two female leads for his final Batman film: a villain and a love interest. Anne Hathaway has already been cast as Selina Kyle, which we assume to be Catwoman, and that would mean the role Cotillard fills could very well be Bruce Wayne's love interest. Of course, until we get an official confirmation from Warner Brothers (an e-mail sent to the company at press time has not yet been returned) feel free to speculate.
Do you think Hathaway is the villain for certain or could she be the love interest? Or is Cotillard definitely the love interest? If so, who is she playing?