Is James Franco Going To Play Kaneda In 'Akira'?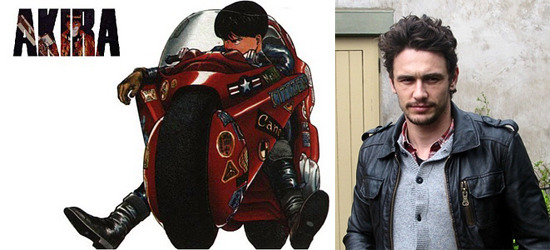 Answer: Probably not. The development of a live-action film version of Katsuhiro Otomo's manga Akira has been long and difficult. The massive story isn't the easiest thing to distill into one or two feature films (just ask the creator, who did it himself in the late '80s) much less for a price that represents an acceptable balance between risk and reward. But Warner Bros and Leonardo DiCaprio's company Appian Way are forging ahead nonetheless. Director Albert Hughes has been attached to the film for some time but the only cast news we've heard since he was hired is that Morgan Freeman might play the Colonel who oversees a project to develop psychic abilities in some individuals.
Now a report pegs James Franco as a possible choice for Kaneda, the lead character.
It is actually multiple reports. A Spanish site had the news, later echoed by JustJared. Both say the actor is in talks to star as Kaneda. And while he's a wonderful actor, at 32 James Franco is also a lot older than Kaneda, who was written as a delinquent teenager. (Kaneda is headstrong and sometimes heroic, but also immature and manipulable.) Are WB and Appian Way really looking change Akira to the point where the lead characters will all be aged up ten years or more? Not the most surprising change if so — the story is already being moved from Tokyo to Manhattan — but still something to wonder about.
But this is unconfirmed stuff for the moment. We haven't had official word from either James Franco's people or Warner Bros. At best this is an offer/in very early talks sort of scenario.
James Franco is massively in demand and wildly busy at the moment, and he is trying to direct one of his own major features this year (As I Lay Dying) and juggling many other projects. (Including a role in The Iceman and possible big stuff like Sam Raimi's Oz the Great and Powerful.) Taking this role isn't an impossibility, but it doesn't seem very likely.