Nicholas Hoult Cast As Jack In Bryan Singer's 'Jack The Giant Killer'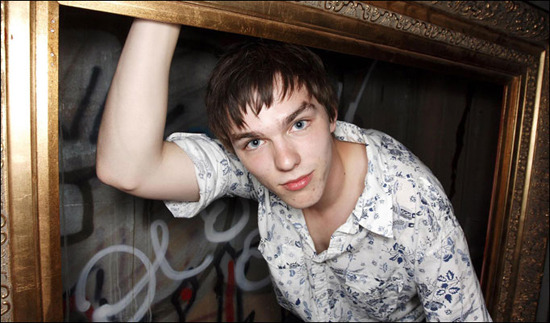 Bryan Singer's Jack the Giant Killer has been coming together over the past couple weeks. We've heard casting for some of the supporing roles — Bill Nighy, Stanley Tucci and John Kassir all have roles.
Until today, there was no Jack. Now, just after we heard he was on a shortlist, the role has been offered to Nicholas Hoult, who had an early breakout role in About a Boy, then appeared in the original UK version of Skins, had a big role in A Single Man, and plays Beast in the Bryan Singer-produced X-Men: First Class.
Deadline calls Jack the Giant Killer "a scary revisionist take on the Jack and the Beanstalk mythology and Hoult will play a farmer who leads an expedition into the giants' kingdom to rescue a kidnapped princess." Before you think that the kid from About a Boy isn't really giant-fighting material, take into account that he has sprouted to be over six feet. And look at the First Class trailer again — he appears to make a mean Beast. (CGI fur helps.)
Meanwhile, Stanley Tucci will be Roderick, an ambitious adviser to the King, and the movie's villain. Bill Nighy will be Fallon, the two-headed leader of the giants, with John Kassis playing the other head.
The plot summary for the Darren Lemke script, which was rewritten by Mark Bomback and then Christopher McQuarrie, is as follows: "When a princess is kidnapped, a long-standing peace between men and giants becomes threatened, and a young farmer is given an opportunity to lead a dangerous expedition to the giant kingdom to rescue her."
The film was originally going to shoot last year but got pushed into 2011. Some of that had to do with figuring out the effects, and we know that Mr. Singer plans to shoot the film in 3D with the new RED Epic camera. He'll also shoot using as much natural/available light as possible. Should make for a slightly unique look for the tentpole.
Now we need a princess. Actresses previously reported to be in line for the role are:
Adelaide Kane – Power Rangers R.P.M., Neighbours
Lily Collins – The Blind Side, Priest, Abduction
Juno Temple – Year One, Kaboom, Greenberg, Atonement, and Paul WS Anderson's upcoming 3D adaptation of The Three Musketeers
After Jack the Giant Killer, Mr. Hoult is scheduled to appear in George Miller's Mad Max sequel/revamp Fury Road, assuming that movie actually gets to shoot.