Noam Murro To Direct 'Die Hard 5'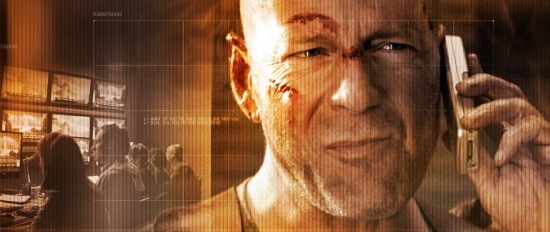 Update (from editor Peter Sciretta): Deadline has learned that five time DGA  nominated commercials director Noam Murro (Smart People) has been hired to direct Die Hard 5. Fox was impressed with the commercials he most recently shot for Microsoft's Halo. Watch them here. We've been following Murro's commercial career for a while now, and it was only a matter of time before he landed a big Hollywood film — and this looks to be the one. The studio has yet to officially sign Willis, but that shouldn't be an issue. The original story, posted earlier this afternoon, follows.
Kevin Smith is one of the few outspoken, brutally honest voices in Hollywood, so when he confessed that Bruce Willis was a prima donna who wouldn't take direction and was stuck in the mindset of the '80s when the actors ran the show, it seemed likely that there was some truth to his claims. That could be why this news doesn't come as much of a surprise.
Apparently, it's not the studio that's currently looking at directors to take on Die Hard 5, but Bruce Willis himself. He previously made it clear that he plans to do two more Die Hard films before hanging up the series for good, and now it would appear he's making an active effort to bring that plan to fruition. To quote Smith, "[He's] what you call a fucking movie star."
More on this after the break, including the studio's response to the script, and an update on Willis' casting in Stephen Frears' Lay the Favorite, Take the Dog.
Skip Woods (The A-Team, X-Men Origins: Wolverine, Hitman) was hired to write the screenplay for the next Die Hard sequel, and Vulture says 20th Century Fox was "less than thrilled" with his most recent draft. Was it really that huge of a step down from his other work, or was Fox simply hoping for a miraculous upgrade in screenwriting abilities?
While Fox deals with that, Willis is busy interviewing directors, and he already has a name at the top of his list. That man is Daniel Espinosa, a Swedish filmmaker who's in the midst of making his English-language debut with the Denzel Washington & Ryan Reynolds CIA thriller Safe House.
In other Willis-related casting news, we have an update to his involvement in Lay the Favorite, Take the Dog (previously referred to as simply Lay the Favorite). He was mentioned as being up for a role opposite Rebecca Hall, and now it appears he'll star in the film after all. He's still negotiating though; nothing has been signed quite yet.
Lay the Favorite, Take the Dog reteams High Fidelity screenwriter D.V. DeVincentis and director Stephen Frears. The film is an adaptation of Beth Raymer's best-seller "Lay the Favorite: A Memoir of Gambling", about her rise from a Vegas cocktail waitress living in a $17-a-night motel to assistant to a "cantankerous" professional sports gambler (Willis) to eventually one of the top sports gambling bookmakers.
Here's the full plot synopsis of the book:
Beth Raymer arrived in Las Vegas in 2001, hoping to land a job as a cocktail waitress at one of the big casinos. In the meantime, she lived in a $17-a-night motel with her dog, Otis, and waited tables at a low-rent Thai restaurant. One day, one of her regular customers told her about a job she thought Beth would be perfect for and sent her to see Dink, of Dink Inc. Dink was a professional sports gambler—one of the biggest in Vegas. He was looking for a right-hand man—someone who would show up on time, who had a head for numbers, and who didn't steal. She got the job.
Lay the Favorite is the story of Beth Raymer's years in the high-stakes, high-anxiety world of sports betting—a period that saw the fall of the local bookie and the rise of the freewheeling, unregulated offshore sports book, and with it the elevation of sports betting in popular culture. As the business explodes, Beth rises—from assistant to expert, trusted and seasoned enough to open an offshore booking office in the Caribbean with a few associates, men who leave their families up north to make a quick killing, while donning new tropical personas fueled by abundant drugs and local girlfriends, and who one by one succumb to their vices. They lie, cheat, steal, and run, until Beth is the last man standing.
Beth Raymer is a natural storyteller: funny, charming, and fully awake to the ironies around her. But she is also a keen and compassionate observer of the adrenaline-addicted, rougish types who become her mentors, her enemies, her family. Raymer brings to life a world that teems with pathos and ecstasy in this wild picaresque that also tells the story of a young woman's crazy, sexy, most unlikely coming-of-age.