'G.I. Joe' Sequel Director Shortlist Includes Jaume Collet-Serra, F. Gary Gray And Jon Chu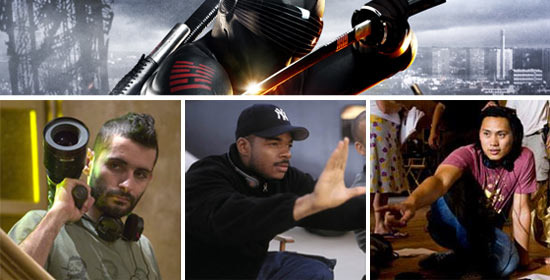 While the main cast of G.I. Joe: The Rise of Cobra will most likely be back for a second round of goofy gadgetry and ninja combat, director Stephen Sommers didn't have a sequel in his contract, and won't be returning. That either means he had his eye on other projects and wasn't interested in coming back, or that the studio told him to take a hike. Whichever explanation, it's probably best that someone new will be helming the sequel, since the movie is "definitely different" from the first, if Channing Tatum is to be believed.
So who does Paramount have in mind? According to a shortlist that was released, the directors circling the sequel are Jaume Collet-Serra (Unkown), F. Gary Gray (Friday) and Jon Chu (Step Up 3D). More on those possibilities after the break.
Credit goes to Latino Review for leaking the list, though I can't say it inspires much confidence. Are these the names that the studio landed on, or are they the ones actively pursuing the job? If the former, then the studio clearly has no idea what they want out of the film, because all three of these filmmakers have wildly dissimilar styles and should not sensibly be lumped together.
When looked at separately, two of the picks could prove to be promising.
I've been pleasantly surprised by Jaume Collet-Serra twice over now, and I'm still waiting for him to break free from the studio-hand-for-hire role that he seems to have saddled himself with. This obviously wouldn't be that film, but it might be interesting to see how he would apply his style to a series that's so enthusiastically dopey and cartoonish. House of Wax was a bad film, no question, but Serra's craftsmanship made it strangely watchable — and morbidly funny. Orphan, meanwhile, was outright demented fun. Both films strike an odd tone of self-serious gloom mixed with a tinge of warped, darkly comedic camp. How cool would it be to see G.I. Joe taken in a similar direction?
F. Gary Gray is a more logical choice. He has a fare bit of experience directing mainstream action flicks — as seen with Law Abiding Citizen, The Italian Job, A Man Apart, The Negotiator and Set It Off — and is generally reliable at providing a fun experience at the movies. That's exactly what a G.I. Joe sequel calls for, so he's kind of the boringly obvious option of the bunch.
As for Jon Chu, what the fuck. The guy's directed two Step Up sequels and Justin Bieber: Never Say Never. Why is his name anywhere near this thing? Are Snake Eyes and Storm Shadow going to have a dance-off?
In terms of the cast, so far only Lee Byung-hun (who played Storm Shadow in the first film) has been confirmed as returning. The screenplay, meanwhile, is written by Rhett Reese and Paul Wernick, the same duo behind Zombieland.
Discuss: Which of these three directors would you be most interested to see helm the sequel?