Jennifer Lawrence To Star In 'Savages' For Oliver Stone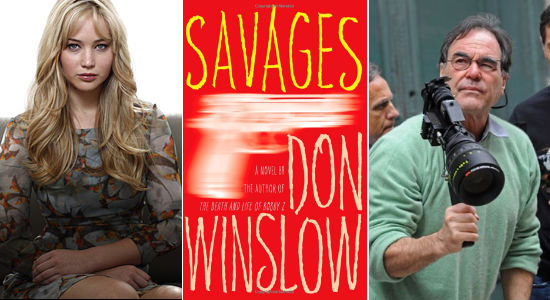 We may receive a commission on purchases made from links.
At this time last year, the name Jennifer Lawrence meant very little to casting directors in Hollywood. Now she has an Oscar-nomination under her belt, is about to be a super hero and is set to top line an Oliver Stone movie. Lawrence is in final talks to star in Savages, based on a critically-acclaimed book by Don Winslow that was previously announced to be directed by Stone. She'll play Ophelia, the simultanious-girlfriend of two marijuana dealers who get caught up in some serious personal and financial trouble. Stone hopes to shoot the film in June and is looking at several A-list actors to play the drug dealers including Leonardo DiCaprio, Aaron Johnson, Tom Hardy, James Franco and Garrett Hedlund. Read more about the project after the break.
Deadline broke the news of this project which is being independently produced, though several studios are rumored to be interested in acquiring it. And why wouldn't they be? Stone is a proven commodity, Lawrence is a rising star and Oscar-nominee with at least three big movies coming out this year (X-Men: First Class, The Beaver and Like Crazy) and no matter who Stone gets to play the two male roles, they're sure to be marketable. Deadline also says he's trying to get Benicio Del Toro to play the bad guy, a Mexican drug leader who takes issue with the whole operation.
The screenplay was co-written by the original author Winslow and Shane Salerno, who wrote the Shaft reboot, Alien vs. Predator: Requiem and has a credit on Armageddon (who doesn't?). Savages itself was a massive best-seller and made several best of lists. Here's the full description from Publisher's Weekly on its Amazon page.
Spare, clipped expository prose and hip, spot-on dialogue propel this visceral crime novel from Winslow (The Dawn Patrol). The future is looking good for Laguna Beach, Calif., marijuana growers Ben and Chon, until they receive an ominous e-mail from the Baja Cartel. Attached is a photograph showing the decapitated bodies of other independent drug dealers. The message is clear: sell your product through us or else. Ben and Chon try to resist, but matters escalate after cartel thugs abduct Ophelia, the guys' beautiful young playmate and accomplice, and hold her for a cool million ransom. Meanwhile, Elena "La Reina" Sanchez Lauter, the leader of the Baja Cartel, must deal with rival drug gangs and potential overthrow from within. Ben and Chon propose a trade that Elena can't refuse, setting the stage for the violent and utterly satisfying ending. Winslow's encyclopedic knowledge of the border drug trade lends authenticity.
Now if that doesn't sound like a story that Stone can crush, I don't know if there's one that exists. This just rocketed onto my 2012 radar no matter who is starring in it. Agree or disagree?