Anthony Mackie And Dominic Cooper Added To 'Abraham Lincoln: Vampire Hunter'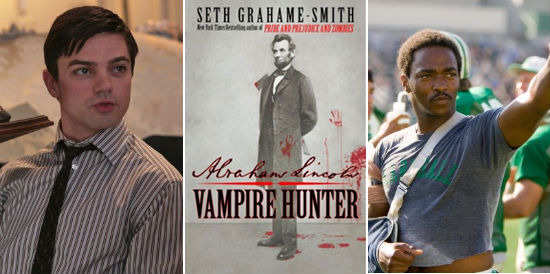 The next two actors has been added to one of our most anticipated movies currently in pre-production that's not based on a comic book character. Anthony Mackie, star of The Hurt Locker, 8 Mile and the upcoming The Adjustment Bureau, and Dominic Cooper, star of Captain America: The First Avenger, An Education and Mamma Mia have signed on to co-star in Abraham Lincoln: Vampire Hunter, directed by Timur Bekmambetov, produced by Tim Burton and starting Benjamin Walker as Lincoln. Mackie will play a character named Will, who is most likely William Seward, Lincoln's best friend in the book and a fellow vampire hunter. In real life, Seward was Lincoln's Secretary of State and white but Mackie will surely be a bit more of a bad ass. Cooper is playing Henry Sturges, a fictional character who serves as Lincoln's vampire-killing mentor. Read more after the jump.
Deadline broke the news of Mackie's involvement with the project and Variety broke Cooper's casting. The film is based on a novel by Seth Grahame-Smith that surmises Lincoln's mother was killed by vampires and that the eventual 16th President of the United States dedicated his life to destroying blood-suckers with an axe. He continued to do so all the way through his Presidency. Just the thought of Abe Lincoln killing vampires, juxtaposed with real American history brings a smile to my face.
According to a previous piece by Russ, there are still several other major roles to still cast in the movie. a young version of Lincoln; his father; Ann Rutledge; Mary Todd; John Wilkes Booth and possibly Edgar Allan Poe. They reportedly wanted Joaquin Phoenix for the role of Sturges but it seems like they went with the suddenly hot Cooper. At least we know that the film is being cast and is on schedule. That's always a positive.
The addition of both Mackie and Cooper is certainly welcome. Mackie been working for years, popping up here and there, but when The Hurt Locker became a Best Picture winner, people finally began to take notice. Cooper is a little less known but is now certainly beginning to break out.
What do you think about Mackie and Cooper joining the film? Do you like how Bekamambetov has cast the film so far?