SXSW Midnight Features And Short Programs Announced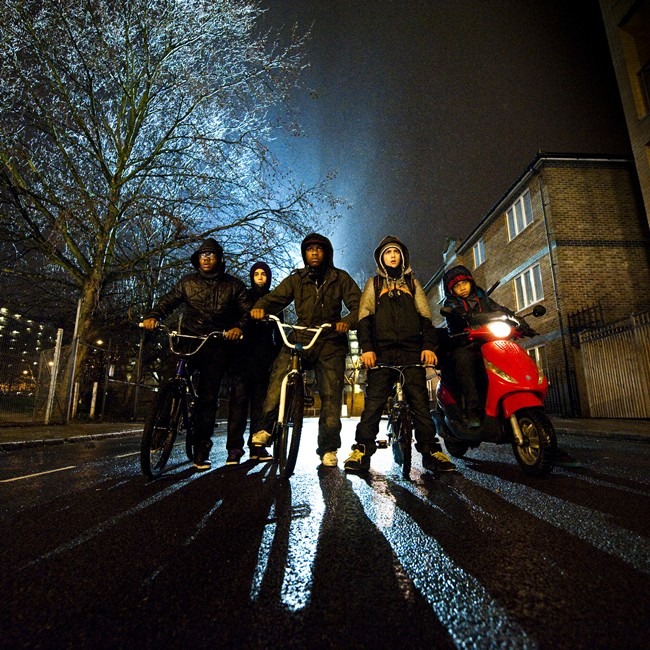 The film program at South By Southwest (SXSW) has really come into its own over the past few years — SXSW is becoming an impressive little film fest in addition to being a massive music party. The lineups for Midnight features and shorts have been announced, and there are some good premieres in there. Attack the Block, from Joe Cornish, will have a world premiere, while Hobo With a Shotgun and James Wan's Insidious will show up as well. And the films that most of us haven't heard of sound pretty great, too. If I was at the fest I'd have my ass planted in a seat for every one of these at midnight. Screw the parties — the crazy genre films are the way to go.
The fill list of features is after the break. The shorts program is massive, and you can find it at the SXSW website.
MIDNIGHTERS
Scary, funny, sexy, controversial – provocative after-dark features for night owls and the terminally curious.
Films screening in Midnighters are:
Attack The Block (UK-England)
Director & Writer: Joe Cornish
A funny, frightening action adventure movie that pits a teen gang against an invasion of alien monsters. It turns a tower block into a sci-fi playground. It's inner city versus outer space.
Cast: Jodie Whittaker, John Boyega, Alex Esmail, Franz Drameh, Leeon Jones, Simon Howard, Luke Treadaway, Jumayn Hunter and Nick Frost (World Premiere)
The Divide (US-Canada)
Director: Xavier Gens, Writers: Karl Mueller & Eron Sheean
To survive the end of the world...you must first survive each other.
Cast: Michael Biehn, Milo Ventimiglia, Lauren German, Rosanna Arquette, Courtney B. Vance (World Premiere)
Hobo With a Shotgun
Director: Jason Eisner, Writer: John Davies
A Hobo finds himself in an urban hell. When he witnesses a brutal robbery, he realizes the only way to deliver justice is with a shotgun.
Cast: Rutger Hauer, Gregory Smith, Molly Dunsworth, Brian Downey, Nick Bateman
Insidious
Director: James Wan, Writer: Leigh Whannell
Dark spirits have possessed the home of a family whose son has fallen into a coma. Trying to save him, the family moves only to realize that it was not their house that was haunted.
Cast: Patrick Wilson, Rose Byrne, Lin Shaye, Ty Simpkins, Barbara Hershey (U.S. Premiere)
Phase 7 / Fase 7 (Argentina)
Diretor & Writer: Nicolas Goldbart
Coco just moved to his new apartment with 7-month pregnant wife. When the building is in quarantined for a deadly flue. The neighbors became unexpected enemies.
Cast: Daniel Hendler, Federico Luppi, Jazmin Stuart, Jose "Yayo" Guridi (North American Premiere)
SXFANTASTIC
Mind-bending Midnighters, hand-selected by our friends at Fantastic Fest.
Films screening in SXFantastic are:
Cold Sweat / Sudor Frio
Director: Adrián Garcia Bogliano, Writers: Adrián Garcia Bogliano, Ramiro García Bogliano, Hernán Moyano
What do you do if you are a right-wing Argentinean terrorist and your state-sanctioned organization is disbanded? We can't say, but it involves chat rooms, bare breasts and a generous slathering of nitroglycerine.
Cast: Facundo Espinosa, Marina Glezer, Camila Velasco, Omar Musa, Noelia Vergini
(International Premiere)
George the Hedgehog / Jez Jerzy (Poland)
Director: Wojciech Wawszczyk, Writer: Rafa? Skar?ycki
Jez Jerzy is a skateboarding hedgehog who likes to drink beer and fondle breasts. He finds it hard to pursue his passions, however, while being tormented by neo-nazi skinheads, mad scientists and a drooling, flatulent clone of himself.
Cast: Borys Szyc, Maria Peszek, Maciej Male?czuk, Sokó?, Micha? Koterski (International
Premiere)
KILL LIST (UK)
Director: Ben Wheatley, Writers: Ben Wheatley & Amy Jump
A dark and twisted horror from the mind of director Ben Wheatley.
Cast: Neil Maskell, Michael Smiley, MyAnna Buring (World Premiere)
Little Deaths (UK)
Directors & Writers: Sean Hogan, Andrew Parkinson & Simon Rumley
A psychosexual horror anthology comprised of three separate stories dealing with the twin themes of sex and death.
Cast: Kate Braithewaite, Daniel Brocklebank, Brendan Gregory, Siubhan Harrison, Jodie
Jameson (North American Premiere)
The FP
Directors & Writers: Jason Trost & Brandon Trost
For years an underground war has raged for dominance over the town of Frazier Park between two clans. Dominance isn't determined through fistfights or petty brawls, but the dancing video game Beat-Beat Beat Revelation.
Cast: Jason Trost, Lee Valamassy, Caitlyn Folley, Art Hsu, Nick Principe (World Premiere)