Simon West May Direct Amber Heard In 'Red Sonja'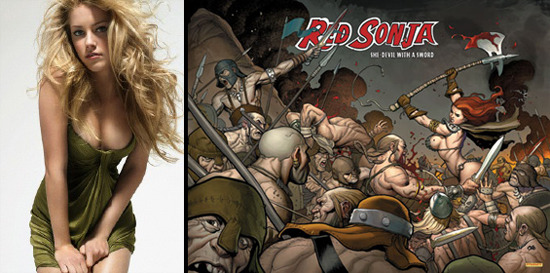 A Red Sonja film has been percolating for the last few years, kicked off when Rose McGowan was set to star with Robert Rodriguez producing. Teaser artwork was dramatically unveiled, and the film seemed like one of several that would be the fruit of the real-life relationship between the director and his Planet Terror actress. But things changed, and while it seemed for a moment as if the film might survive the end of the Rodriguez/McGowan relationship, that version of Red Sonja has been dead for some time.
The film is still being developed at Nu Image/Millennium, however. Now producer Avi Lerner says that he's got Simon West set to direct a new version, and that he likes his Drive Angry actress Amber Heard for the title role.
Empire talked to the producer who said,
We didn't want to start it until we'd finished Conan... We will definitely shoot Red Sonja in between Conan and Conan 2. We already chose the director: an English guy called Simon West... We're talking to a few girls for the role of Sonja, but we just finished a movie called Drive Angry with Amber Heard, and I want to see her. She's my favourite for the role.
The lesson here is: get one job with the company, and if they like you, you're probably gold for a couple more. Millennium is behind The Medallion, which reunites the Con Air team of director Simon West and star Nicolas Cage. The latter has obviously worked with Miullennium lately, via Bad Lieutenant and Drive Angry. And now Amber Heard might become part of the studio's family. She might not know that yet, however, as the producer says,
Amber is the new Red Sonja... but she doesn't know it yet! When you write it she'll get the shock of her life! She'll call me and say 'How dare you talk to Empire before you talk to me?!'
And we might be able to extrapolate some enthusiasm for the company over its new version of Conan, given that a second film is already in active development. We haven't even seen a trailer yet for the first, and it seems like there are pretty serious plans to shoot the sequel, with Red Sonja as a sort of related middle chapter.
One potential snag could be the fact that Amber Heard has just been cast as a Playboy bunny in the NBC pilot Playboy. If that goes to series her schedule will be a lot more packed, and Millennium will have to dance a little if it wants her swinging a sword in a metal bikini.