Jason Statham To Play Special Forces In Action-Thriller 'Echelon'?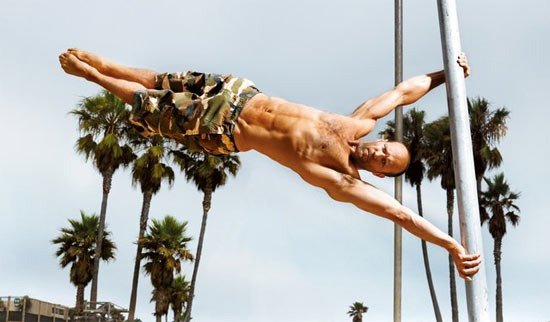 If an actor is sharing screentime with Jason Statham in one of his numerous Jason-Statham-kicks-ass-and-drives-cool-cars-and-screws-lots-of-hot-women vehicles, the odds of that character surviving is against them. And assuming that character does meet an untimely yet entirely expected end, the odds of that death being anything short of preposterously brutal is even slimmer. So what's next on Statham's agenda of casual murder and badassery?
Word is he aims to dispatch two teams worth of human punching bags in Echelon, an action-thriller that he's circling about a ex-special forces soldier who finds himself caught between warring Russian Mafia and US secret agents as they all race to get their hands on the titular Echelon computer program. In other words, it promises to be a cultural melting pot of carnage. Learn more after the break.
Deadline says that Statham hasn't yet signed on for the film, but is looking to take on the role that Eric Bana was previously attached to. He would play Nick Stone, an ex-SAS officer turned freelance intelligence officer who works on risky "deniable operations" for cash.
The film is based on the third book in a series (entitled "FireWall") written by Andy McNab, who is himself an ex-member of the British Army regiment the SAS. Nick Stone is the recurring central figure throughout the espionage book series, of which there are thirteen.
Making his feature directing debut on the adaptation is Simon Crane, a stunt coordinator who's been working on films since the mid-'80s, from The Tourist and Salt all the way down to Saving Private Ryan, Titanic and Aliens. Producing is Ashok Amritraj (Ghost Rider: Spirit of Vengeance, Street Fighter: The Legend of Chun-Li) of Hyde Park Entertainment, Bonnie Timmermann (Georgia Rule, Bug) and Steve Chasman, who's worked with Statham on The Bank Job, War and all of the Transporter films.
Here's the plot synopsis of the book:
Helsinki, December 1999. Nick Stone, ex-SAS, now a 'K' working for British Intelligence on deniable operations, is tough, resourceful, ruthless, highly trained – and desperately in need of cash...
Offered the lucrative freelance job of kidnapping a mafia warlord and delivering him to St Petersburg, it seems to Stone that his problems are over. In fact, they are only just beginning.
Stone enters the bleak underworld of the former Soviet republic of Estonia, where unknown aggressors stalk the Arctic landscape, and he soon finds himself caught between implacable enemies. For Russia has embarked upon a concerted cyber-espionage offensive, hacking into some of the West's most sensitive military secrets. American and British intelligence agencies are determined to thwart them. And the mafia are waiting in the wings with their own chillingly brutal solution...