Andrew Garfield Joins Jennifer Garner And Marcia Gay Harden In 'Back Roads'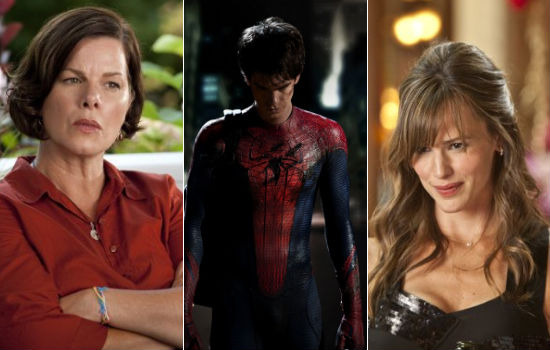 We may receive a commission on purchases made from links.
Man, that Andrew Garfield has really got it tough. First he gets to fall in love with Keira Knightley and Carey Mulligan in Never Let Me Go, then plays a key role in a soon to be classic, The Social Network, he's Spider-Man for crying out loud and now he gets to sleep with Jennifer Garner.
Garfield, Garner and Marcia Gay Harden are all attached to star in Back Roads, an adaptation of a best-selling book by Tawni O'Dell that will be directed by Adrian Lyne. The pair co-wrote the screenplay about a young man forced to raise his three sisters after their mother is sent to jail for killing their abusive father. Read more after the jump.
According to Variety, who broke the story, the Infinity Media production is tentatively scheduled to start filming in June. Garner would play one of the family's neighbors, who becomes romantically involved with Garfield and Harden is set to play his therapist. No word on who will play the sisters but "several high-profile young actresses are being considered."Back Roads was an Oprah Book club selection way back in 2000. Here's the shorter of two descriptions on its Amazon page, from Library Journal:
In a small Pennsylvania town depressed by coal mine closings, a young man of 19 finds himself thrust into the role of parent. Harley has become the guardian of his three younger sisters as the result of their mother going to jail for the shooting death of their father. Each sibling finds his or her own way of coping with this family tragedy. During his regular visits with a psychotherapist Harley finds some comfort while at the same time feeling disdain for this woman. He is able to satisfy his youthful urges by beginning a series of sexual encounters with an older woman whose daughter is a playmate of his youngest sister. The characterizations are vivid, and each family member generates sympathy. Reader Dylan Baker does a satisfactory job of interpreting Harley's sense of frustration and cynicism. An absorbing novel worth purchasing for fiction collections.
More than the cast, I'm excited to hear that Lynn is getting back behind the camera after an almost decade-long hiatus. He last directed 2002's steamy Unfaithful and is well-known for his unique take on sexuality and suspense in films like Fatal Attraction, 9 1/2 Weeks and Indecent Proposal. He also did Jacob's Ladder and Flashdance.
What, if anything, stands out to you about this project?