Brad Anderson And Christian Bale Plan To Reunite For Adaptation Of J.G. Ballard's 'Concrete Island'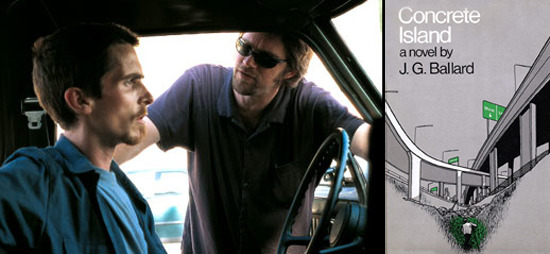 Brad Anderson's most recent film is Vanishing on 7th Street, but he's best known for two other films: the abandoned mental hospital ghost story Session 9, and The Machinist, in which Christian Bale wastes away into madness before our very eyes. (He also directed a couple episodes of The Wire and several of Fringe, among other things.) Because of Christian Bale, The Machinist is probably his most-seen film.
So what say you to a new film that once again brings together the director with Scott Kosar, the writer of The Machinist, and Christian Bale? How about if the script is an adaptation of Concrete Island, a novel by the peerless author J.G. Ballard?
The director told WeGotThisCovered,
I've got another project that Scott Kosar, the writer of The Machinist is writing. It's based on J.G. Ballard's novel called Concrete Island. It's an urban survival story that Christian Bale is attached to be in.
He gave the same info the STYD, adding,
It's sort of a crazy, cool Ballard-esque type story, but Christian's on board to do that when we can fit it into his schedule, of course.
I'll take as much onscreen Ballard as we can get. Having Christian Bale in a new J.G. Ballard film is particularly cool, since his breakout role was a fictionalized version of the young author in Steven Spielberg's film Empire of the Sun, based on Mr. Ballard's novel of the same name. Great seeing things come full circle like this. Here's the synopsis of the novel:
A twisted adaptation of Robinson Crusoe, the story's protagonist, Robert Maitland, a wealthy architect, finds himself stranded in a manmade 'island' (a section of fenced-off wasteland in the middle of a motorway intersection) between the Westway and M4 Motorway in West London, forced to survive on only what is in his crashed Jaguar and what he is able to find. As his condition degrades, it soon becomes difficult to determine whether Maitland is finding sanity or watching his mind fall apart as he finds companions on the island and eventually decides to remain there and forsake his former life.
Because of the schedule thing, this one isn't likely to shoot this year. But that's what Jack is for. We've reported on that one before, when Samuel L. Jackson and Liev Schreiber were attached, and in the talk with STYD Mr. Anderson offered,
It's about a serial killer who is in a car accident in the beginning of the movie and has retrograde amnesia. His physical therapist tries to get him back on his feet, and they fall in love, and then of course, midway through the movie he has flashes of who he really is, and he's a killer... So it's actually very cool, it's got a real nice Hitchcock suspense aspect to it. It takes all the conventions of the genre, but it's a very well-written script and we're trying to get that one going.
The two actors above remain attached, but the key is an actress who will, as the director says, "satisfy all the financing types."
And, on a semi-related note, there's a great piece about the covers commissioned for various J.G. Ballard novels over the years. The essay winds through the various subjects and themes of the author's novels, looking at how they're represented (or not) in the covers of the books. It's good stuff, if a subject that has been covered (erm) before.