Meryl Streep Confirmed For 'Great Hope Springs;' First Image Of The Actress As Margaret Thatcher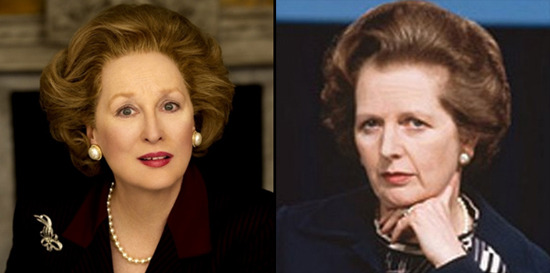 The last time we heard about Great Hope Springs, it was looking as if Mike Nichols might direct the film, with Meryl Streep starring alongside Philip Seymour Hoffman and James Gandolfini. Now things have changed just a bit. Instead of Mike Nichols, David Frankel (The Devil Wears Prada) will direct. More after the break, along with a larger image of Meryl Streep as Margaret Thatcher.
THR repeats the basic details about the Vanessa Taylor script, which is about " a middle-aged couple who after thirty years of marriage attend an intense counseling weekend to examine the intimacy issues that are threatening their marriage." There is no word yet on who might co-star — don't neccesarily expect to see James Gandolfini or Philip Seymour Hoffman, despite the fact that they (and Jeff Bridges) were once linked.
Finally, here's the first image of Meryl Streep as former British prime Minister Margaret Thatcher. She's playing the leader in The Iron Lady, which focuses primarily on the days of Thatcher's government leading up to the war in the Falkland Islands. Phyllida Lloyd is directing — that's the director of Mamma Mia!, by the way — and the photo looks pretty good. A bit more glamorous (well, you know) than I expected, but I expect she'll get the mannerisms right. As for the rest of the cast, Jim Broadbent plays Dennis Thatcher, Anthony Head plays Geoffrey Howe, and Richard E. Grant, Roger Allam, Alexandra Roach, Harry Lloyd are on board. [Empire]