Kevin Smith Wants To Bring Back Ben Affleck And Matt Damon For 'Hit Somebody'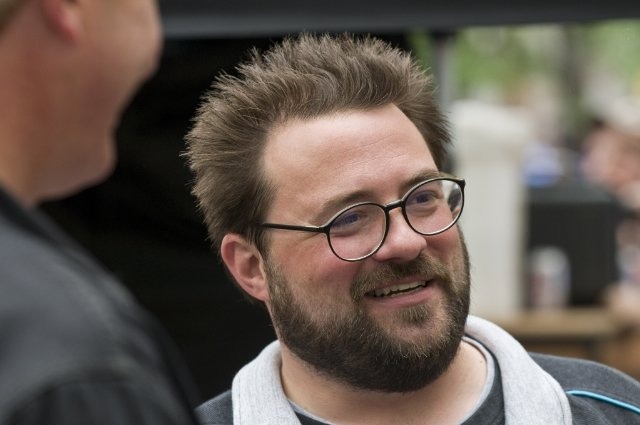 Today Kevin Smith did a one-hour live chat with MTV — his first major bit of non-twitter promotion since Red State debuted at Sundance. Quite a few topics were covered, but a couple of the notable mentions had to do with Hit Somebody. That's the hockey film the director plans to make next — and also the last film he plans to direct — which he likens to the Muppet Movie, by virtue of the fact that there is room for a ton of cameos. As a result, he talks about bringing back everyone he's ever worked with ("I'm not even ruling out [Bruce] Willis at this point. I'd duck, but I'd put a stick in Willis' hand") including Matt Damon and Ben Affleck.
With Smith talking about the film, we're getting a lot more info. He calls it a valentine or love letter to Canada and to hockey, and reiterates that it is based on a song written by Mitch Albom and performed by Warren Zevon. It is not R-rated, spans the '50s to the '80s, and is set in a league of his own devising, so don't expect NHL licensing. (No budget for that in an indie, anyway.) Smith says the script is at 110 pages now and is only half done. (He calls it "chunky.") Because it spans so much time, and will feature a number of hockey teams, he's got room to bring back just about everyone he's ever cast.
They're all coming back. It's like The Muppet Movie. you've got your core cast, and then a zillion cameos... It's going to sum everything up. We'll have a team in Boston, and who do you think I'm going to call? Both of those dudes.
Much more interesting, however, is the idea that Hit Somebody will 'sum everything up.' He explicitly calls it "an analogous tale to my time in film," and is about a guy "who loves hockey with all his heart, but is no damn good at it. Then he gets his shot." That's a pretty big deal — an explicitly reflexive narrative that will be his last as a director. He says it will be a meditation of what happens when your dreams come true. Sounds like a much more striking way to cap off a directorial career than Clerks 3 would be.
Check out the full chat, which is being re-run at MTV. It's a good talk, with the director in very calm, genial mode. If you've had any reaction to the big 'Smith vs Critics' conversation of recent months, it might be worth your time to take a look at this chat. With respect to some of the tumultuous conversations that have surrounded him of late, he says that in some ways he wanted to "chum the waters," and kind of stir things up a while.