Rosamund Pike Cast In 'Wrath Of The Titans'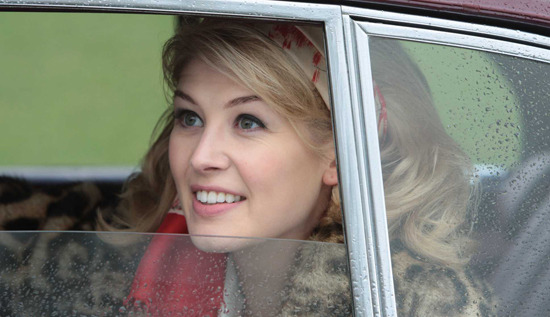 Last week there was word that Rosmund Pike was on the shortlist for a major female role in Superman. But now it looks like she's taken a different Warner Bros. gig, as the actress has been cast as Andromeda in the sequel to Clash of the Titans, which has been referred to as Wrath of the Titans.
Deadline offers the news, and, yes, this is a recasting. Alexa Davalos played Andromeda in the last film, and is reportedly unavailable for the follow-up. The site says the role is now a major one. (Andromeda is the character whose beauty was compared to the gods, leading to the gods' threat to destroy the city of Argos if Andromeda is not sacrificed to the Kraken. She's a minor character in the film, though in the 1981 original she had a bit larger role, and was a love interest to Perseus.)
We know that Liam Neeson is set to reprise the role of Zeus, and that Sam Worthington will again play Perseus. Besides that we don't have a lot of info on the cast. Will Gemma Arterton return as Io, or will she be busy in Hansel & Gretel: Witch Hunters? Making Andromeda a bigger role in the sequel will make more sense if Gemma Arterton is busy — rather than recasting Io they may be rewriting her part into Andromeda. That's a decision that's fine with me, and after seeing her do some good indie work following her Bond breakout, I'm glad to see Rosamund Pike get a good paycheck and more exposure.
Jonathan Liebesman (Battle: Los Angeles) is directing Wrath of the Titans, which has already been set for a March 30, 2012 release date.