Anton Yelchin Cast In Dean Koontz Adaptation 'Odd Thomas,' From Director Stephen Sommers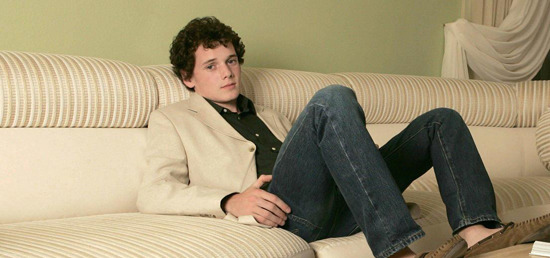 There have been a few adaptations of Dean Koontz novels here and there, and now Stephen Sommers is going to add one more to the pile. Instead of going into the sequel to G.I. Joe (from which he was more or less dismissed) the director will adapt the book Odd Thomas, and he's cast Anton Yelchin.
STYD has the news, but doesn't offer too much more about the film. Looks like Stephen Sommers wrote the script himself, and is producing it as well.
The book is the first of a series of novels featuring the same character, "an ordinary man with an extraordinary gift. Able to communicate with the dead, Odd must use their silent clues in an attempt to prevent a mass catastrophe which threatens everything he holds dear."
Here's a more expansive take on the novel, which I've seen referenced as once of the author's better books. Anton Yelchin seems like a solid choice for the title role. And while it's easy to take Stephen Sommers to task for many of his films (G.I. Joe, Van Helsing, The Jungle Book) I retain a real, unqualified fondness for Deep Rising. I'd love to see him make another satisfying movie. Working away from the demands of studio tentpole construction may be the way to go.
Odd Thomas, who narrates, is odd indeed: only 20, he works contentedly as a fry cook in a small fictional California town, despite a talent for writing. The reason for his lack of ambition? A much rarer talent: Odd sees and converses with ghosts, the lingering dead who have yet to pass on, a secret he has kept from nearly everyone but his girlfriend, an eccentric author friend and the local police chief, whom he occasionally helps solve terrible crimes. Odd also has the ability to see bodachs, malevolent spirits that feast on pain and whose presence signifies a likelihood of imminent violence. The proximity of bodachs to a weird-looking stranger in town, whom Odd dubs "Fungus Man," alerts Odd that trouble is brewing; breaking into Fungus Man's house, Odd discovers not only hundreds of bodachs but a shrine to serial killers that helps him deduce that somehow Fungus Man will wreak widespread havoc very soon-so Odd is caught in a classic race against time to deter catastrophe.