Michael Moore Suing The Weinsteins Over 'Fahrenheit 9/11'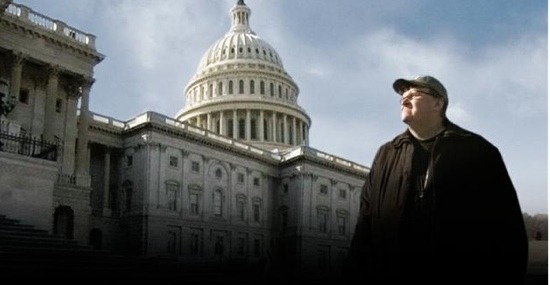 Ask Roger Smith, George W. Bush, Charlton Heston and the heath care industry. If there's one person you don't want to screw over, it's Michael Moore. Whether you agree with his politics or not, Moore is well-known for being extremely vocal and diligent. So when he audited his $200 million, 2004 hit film Fahrenheit 9/11 and found "substantial irregularities in the accounting," he went to the men responsible: Bob and Harvey Weinstein. After several months discussing the matter, Moore filed a lawsuit against the Weinsteins in Los Angeles County Court Monday for "breach of contract, breach of fiduciary duty and constructive fraud claims." He claims the Weinsteins used "Hollywood accounting tricks" and "financial deception" to cheat the him out of almost $3 million. Read more after the break.
The Hollywood Reporter reported on this lawsuit and have a much more detailed description of what's going on. The original agreement was supposed to be a 50-50 split of profits between the two parties but Moore now believes that money was diverted to hide it from him including:
An alleged secret deduction of $2.5 million in revenue that the Weinstiens claimed was paid to acquire an interest owned in the film by a predecessor company called Icon Entertainment International; a 7.5% "override" fee on advertising costs in the amount of $1.2 million, "despite the fact that [the Weinsteins] did not incur the advertising costs and the [deal] did not permit [them] to deduct these costs"; as well as additional improper deductions of fees paid to distribution consultants, accountants, residuals, foreign taxes and travel expenses, including what Moore says are the "grossly excessive and unreasonable" costs of hiring a private jet to carry a single passenger to Europe.
Add that all together, and Moore believes the Weinsteins stiffed him.
Moore's lawyers would not comment beyond the papers that were filed but the Weinstein's laywer, Bert Fields, said the following to the Hollywood Reporter:
The Weinsteins have paid everything they should have paid. Mr. Moore has received a huge amount of money from this film and we believe he is overreaching. He should be ashamed of himself. We've had a number of meetings and have kicked around their arguments and ours, and they have a lot of problems with their claims.
Both parties in this lawsuit are generally thought of as thick-skinned, hard-nosed and controversial so it should be interesting to see how this plays out. Do you think Moore is overreacting or that the Weinstein's withheld money from him?