First Look: Darren Aronofsky's 'Noah'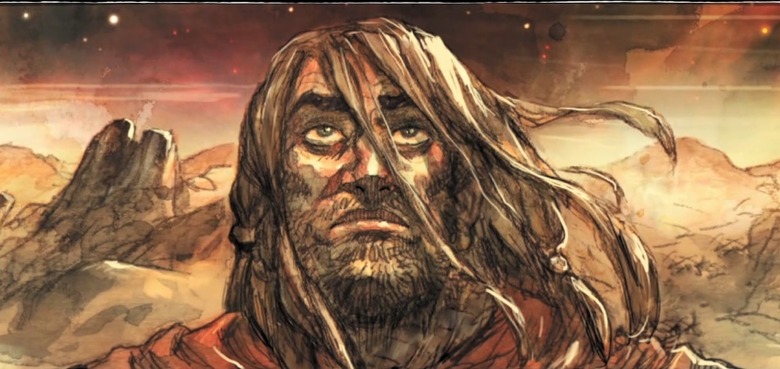 Last month, Darren Aronofsky was quoted as saying that he is "doing a comic book of a script that's really hard to make and we're going to do a comic version first and see what happens." Many of the movie websites jumped to the conclusion that Aronofsky was working on a Batman comic book, which he would like to adapt for the big screen. We reasoned that it must instead be a project titled Noah — a big screen adaptation of Noah's Ark that Darren has been developing since he was 13-years-old.
We now have a confirmation that it is in fact Noah. Not only that, but BleedingCool has learned that Canadian artist Nico Henrichon (who illustrated Brian K. Vaughan's Pride Of Baghdad) is recreating Aronofsky's story for the graphic novel form. The book will be released in 2012, and we even have a sneak preview of some of the art from the upcoming graphic novel. Hit the jump.
When Darren Aronofsky was 13-years-old, he won a United Nations poetry competition at his Manhattan Beach, Brooklyn school for a poem about the end of the world as seen through the eyes of Noah. And so started Aronofsky's obsession with the biblical figure. In September 2008 we talked to Aronofsky about his idea for a film based on Noah:
"It's the end of the world and it's the second most famous ship after the Titanic. So I'm not sure why any studio won't want to make it," said Aronofsky. "I think it's really timely because it's about environmental apocalypse which is the biggest theme, for me, right now for what's going on on this planet. So I think it's got these big, big themes that connect with us. Noah was the first environmentalist. He's a really interesting character. Hopefully they'll let me make it."
Aronofsky has later revealed that they have a script and even a "big name" actor attached to the project, but that isn't enough to get the studios interested. He mentioned in late 2008 that they might put together "a graphic novel of it" so that they could "eventually" "set it up". Darren is trying to use the world of graphic novels as a backdoor into getting the movie made. And this wouldn't be the first time that Aronofsky has turned to the world of comics. His initial version of The Fountain was released in graphic novel form by Vertigo Comics in 2005 after Brad Pitt left the project high and dry.