Will Rooney Mara Be Topless On 'The Girl With The Dragon Tattoo' Poster?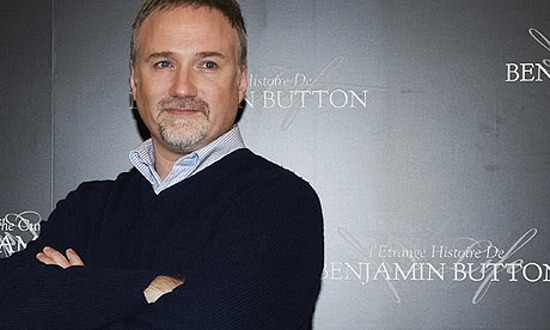 If Oscar-nominated director David Fincher had his way, Rooney Mara would be topless on the poster for his new film The Girl With the Dragon Tattoo. We all know that's not gonna happen, as does Fincher. But that doesn't stop him from thinking about it.
The Hollywood Reporter has a fantastic profile on the rebellious director that talks about several things he's done to thumb his nose at Hollywood. And even though he's enjoying the most successful run of his career with a slew of Oscar nominations for his last two films, The Curious Case of Benjamin Button and The Social Network, Fincher is still questioning authority. Such as with the aforementioned poster he'd like to use for The Girl With The Dragon Tattoo. Read a few highlights from the profile after the jump.In the Hollywood Reporter profile, which we urge fans of Fincher to read in its entirety, there's a moment where he takes out an iPad and shows a photo that he'd like to be used for The Girl With the Dragon Tattoo poster.
Warming up — as much as he ever allows himself — he takes out an iPad and clicks on a photo he's planning to use for the Dragon poster. It shows actor Daniel Craig half-hidden behind co-star Rooney Mara, who's looking directly into the camera. Her hair is spiky, her face pierced with rings, her body covered in tattoos. It's black and white and beautiful, but there's no way in hell any studio will ever let Fincher use it, as he knows. Because Mara is naked from the waist up.
The article uses that nugget to suck us into a fascinating tale of Fincher's career which includes some huge music videos, a debacle on his feature directorial debut, Alien 3, and then redemption with films like Se7en, Fight Club and Panic Room. It also has a few tidbits about Fincher's current schedule shooting The Girl With the Dragon Tattoo (on sets in LA but also on location all across Europe) and why, despite trepidations, he ended up taking on the herculean project.
I was skeptical because the book is huge and there are so many characters. But what put it over the top was [Sony chairman] Michael Lynton and Amy's insistence that they loved the idea of a franchise for adults. If you can't do a piece like this as a franchise, there's no chance of ever doing one.
Head over to the Hollywood Reporter to read the full article.