New Details About '21 Jump Street' With Jonah Hill And Channing Tatum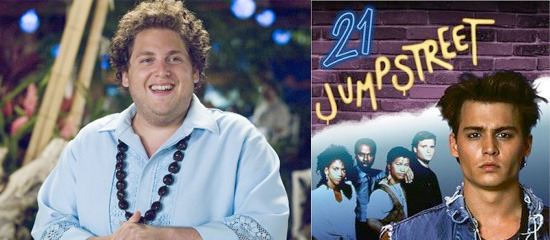 When Jonah Hill and Channing Tatum team up for the film version of 21 Jump Street, it's not going to be some kind of literal remake of the popular FOX TV series than ran from 1987-1991. Hill had long ago been quoted saying the film, directed by Phil Lord and Chris Miller, would be a mix of Bad Boys and John Hughes, basically borrowing the idea for the original show – about a group of young looking police officers who go undercover in high school – and putting a modern spin on it. Now a bunch of details from the film have been revealed thanks to Moviehole and the Los Angeles Times.
Plus, Tatum confirmed filmmakers are still working on getting Johnny Depp – who stared in the original show – to cameo. Read more after the jump.
Tatum talked with the Los Angeles Times while promoting his new film The Eagle said said the following about Depp:
I really hope he does it. It would mean the world to us and I think everyone wants to see him do it. And he's enough of a madman to do it.
He wouldn't say where Depp would fit in to the film, though, which is reportedly about a new drug that's spreading out of a high school and how Hill and Tatum's characters are tasked with going undercover and busting the dealers. But, the film is obviously not a straight undercover action film. It's filled with over the top comedy:
I've never read a script that I'm like, 'How are they letting us do this?' I don't even mean the censoring board. I'm like, 'No, I can't believe they're going to put this in a movie.' It's freaking ridiculous.
The star of G.I. Joe equated the film to Back to the Future, saying that the characters "get to go back and relive [their] high-school life" and confirmed that, despite what other reports are saying, Hill's character is actually the cool one of the pair.
That's in direct opposition to a recent Moviehole report that says the Tatum's character is the "cool" one. They offer a few specific details about character names and plot points and it's all considered heavy spoilers though so head over there if you'd like. Also remember that while what they're reporting plot wise sound accurate, the characters are most likely reversed.
Moviehole also equates the film to classic '80s comedies like Hiding Out in terms of balancing comedy and action which sounds perfect because, if you have the rights to 21 Jump Street, you might as well have some fun with it.
21 Jump Street is currently scheduled for release March 16, 2012. Are you looking forward to it?