Alice Eve, Diane Kruger And Rosamund Pike Are Contenders For 'Superman' Role...But It's Not Lois Lane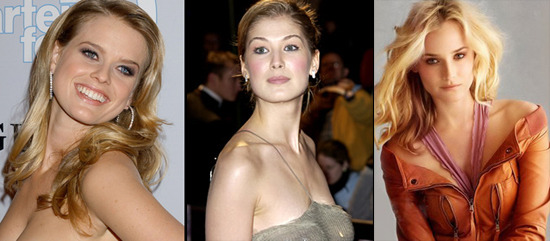 Warner Bros. is narrowing the search for a female lead to star opposite Henry Cavill in Zack Snyder's upcoming Superman, and three names have emerged, all of which moot previous shortlist stories. Alice Eve, Diane Kruger and Rosamund Pike are said to be the top choices. But there's a new wrinkle: the role the studio is looking to cast is not Lois Lane.
Variety has the report, and says that the studio doesn't want someone who might overshadow Henry Cavill. In other words, someone well-established (like the previously rumored Rachel McAdams) isn't going to get the job.
With big roles in the National Treasure movies and Inglourious Basterds, you'd think that Diane Kruger would also be out, but evidently she makes the cut. Alice Eve flirted with superhero roles when she was in contention for gigs in X-Men: First Class and Captain America. And Rosamund Pike kicked off her film career in a big way with a role as a Bond girl in Die Another Day (a relatively good Bond girl, too ) but then went towards more indie fare. She did a great job in An Education, for instance.
If WB and Zack Snyder are really going the 'icy blonde' route, I've just got three words: Rosamund Pike, please. But my gut says the choice will be Alice Eve.
And if this isn't Lois Lane, who is it? Lana Lang is the name that leaps to mind — she being something like Superman's Gwen Stacy — but it could be someone else, I suppose.Variety doesn't explicitly say that Lois Lane is not in the film, but does say that this role being cast is the female lead.
A villain role will be cast soon, too, but we don't have a list of possible actors there, nor a name for the character.