Ben Affleck Negotiating To Direct Unusual Thriller 'Argo' For Producer George Clooney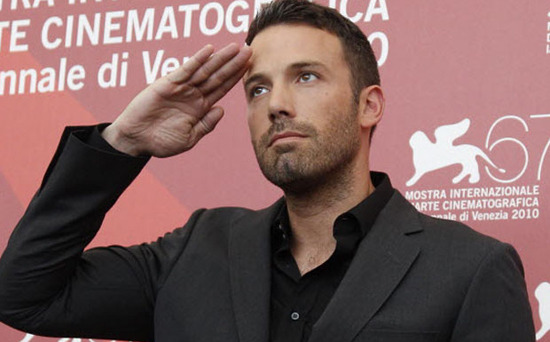 Suddenly, there's a chance that Ben Affleck might follow George Clooney into the world of the 'too weird to be true' political thriller. Mr. Affleck has been looking at options for his third directorial project, following The Town and Gone Baby Gone, but none have been locked down yet. Now it looks like he might work with producers George Clooney and Grant Heslov (The Men Who Stare at Goats) to adapt a Wired article called "How the CIA Used a Fake Sci-Fi Flick to Rescue Americans from Tehran."
THR has the news, saying that Ben Affleck is in active negotiations to direct Argo based on the script by Chris Terrio, adapting the original 2007 article by Joshuah Bearman. What's the story about? Here's what the author told BoingBoing when the original piece was published:
The story is a CIA rescue mission during the Iran Hostage Crisis, when six American embassy staff escaped the compound and were on the lam in Tehran for months — until the CIA rescued them by creating a fake Hollywood production company and pretended to be in Iran location scouting for a big-budget sci-fi epic. I swear, it's all true. The CIA even got an office for their fake production company at Sunset/Gower studios, had a script and concept art, and took out ads in Variety. There are many more strange digressions in detail, but I'll let you find out about them in the story.
It's crazier than that, though. This was in 1979, so this would be a period piece, for one. And Jack Kirby and classic sci-fi author Roger Zelazny factor in, too. (Check the excerpt below to find out how.) As far as the actual operation goes, one of the core participants was Antonio Mendez,a low-key spy and so-called 'master of disguise.' He has since been profiled by Errol Morris in his series First Person, in the episode called 'The Little Gray Man.' One of his friends and collaborators was Oscar-winning makeup guy (for Planet of the Apes!) John Chambers, and he's part of this story, too.
I love this idea. I love Ben Affleck moving out of his Boston comfort zone, I love him working with Clooney and Heslov, and I love the idea of him taking a step or two out of serious thriller territory and into something a little more weird. I'm not a big fan of The Men Who Stare at Goats, but I think that the Clooney/Heslov team is likely self-aware enough to realize that they hit a couple pitfalls there that could be avoided this time.
Here's a bit of the original article that suggests how odd the setup for this whole thing really is:
All they needed now was a film — and Chambers had the perfect script. Months before, he had received a call from a would-be producer named Barry Geller. Geller had purchased the rights to Roger Zelazny's science fiction novel, Lord of Light, written his own treatment, raised a few million dollars in starting capital from wealthy investors, and hired Jack Kirby, the famous comic book artist who cocreated X-Men, to do concept drawings. Along the way, Geller imagined a Colorado theme park based on Kirby's set designs that would be called Science Fiction Land; it would include a 300-foot-tall Ferris wheel, voice-operated mag-lev cars, a "planetary control room" staffed by robots, and a heated dome almost twice as tall as the Empire State Building. Geller had announced his grand plan in November at a press conference attended by Jack Kirby, former football star and prospective cast member Rosey Grier, and several people dressed like visitors from the future. Shortly thereafter, Geller's second-in-command was arrested for embezzling production funds, and the Lord of Light film project evaporated.
Since Chambers had been hired by Geller to do makeup for the film, he still had the script and drawings at his house. The story, a tale of Hindu-inspired mystical science fiction, took place on a colonized planet. Iran's landscape could provide many of the rugged settings required by the script. A famous underground bazaar in Tehran even matched one of the necessary locations. "This is perfect," Mendez said. He removed the cover and gave the script a new name, Argo — like the vessel used by Jason on his daring voyage across the world to retrieve the Golden Fleece.