Edgar Wright's 'The Wright Stuff II' Wrap-Up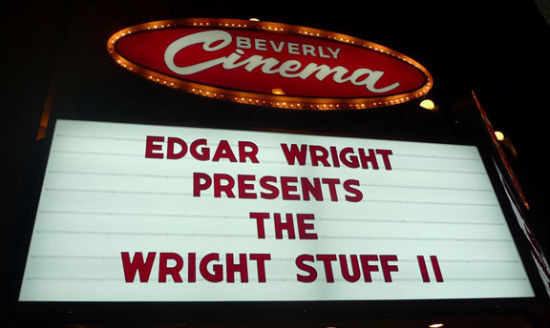 It's always been a dream of mine to attend the entire Sundance Film Festival and, last week, I was able to fulfill that dream. Leave it to Edgar Wright to simultaneously program one of the most amazing repertory programs in recent memory and make me reconsider what dreams are made of.
The Wright Stuff II ran from January 14-31 at the New Beverly Cinema in Los Angeles and featured Wright-selected double features with special guests, Q&A's, fun trailers and more. We did a preview of what was playing at the event and now that it's over, Wright has provided his own look back with some reveals of the many surprises he provided to Los Angeles fans. Check out some highlights after the break.
On Wright's blog, Edgar Wright Here, he posted a huge list of thank yous and more. Here are some of the highlights of what he posted.
First, his guest list:
Joe Dante, Simon Pegg, Lucy Davis, Anna Kendrick, Mae Whitman, Mark Webber, Brie Larson, Brandon Routh, Johnny Simmons, Michael Bacall, Doug Benson, Richard Kelly, Quentin Tarantino, David Selby, Lorenzo Semple Jr., John Landis, George Folsey Jnr, Bill Krohn, Keith Gordon, Walter Hill, Bruce Dern, Frank Marshall, Ronee Blakley, Steve Golin, Laura Dern, David Lynch, James Remar, Larry Gordon, Joel Weiss, Josh Olson, Patton Oswalt, Geoffrey Lewis, June Fairchild, Ed Saxon and D.V. Devincentis.
He also got written contributions from these people:
Nick Frost, Terry Gilliam, Tom Tykwer, David Patrick Kelly, Michael Chapman & Steven Spielberg
Wright then goes on to list his favorite moments. We want you to visit his blog for the full list, so we're just going to grab a few of them. These are quotes from Wright.
Getting Simon Pegg down to LA and into the screening without anyone knowing, then freaking out the audience by pretending to call him in Vancouver and his phone ringing in the auditorium.
Sitting front row with Quentin Tarantino watching a perfect print of Dirty Harry.
John Landis being so blown away by American Graffiti in his first viewing in 38 years, that he admitted to feeling bad for parodying the ending in his own Animal House.
Walter Hill commenting that the sold out screening of The Driver was the largest American audience to have ever watched the movie.
Laura Dern making an 11th hour appearance at Wild At Heart and surprising me by bringing David Lynch with her. Cue crowd going wild.
Frank Marshall & Larry Gordon telling amazing production anecdotes about The Warriors while they both munched popcorn onstage.
Patton Oswalt helping me introduce Thunderbolt & Lightfoot by admitting to actually never having seen Thunderbolt & Lightfoot.
Next, Wright provides a bunch of still photos from each night of the event. Looking at these, you can see the happiness on his face as well as the palpable excitement felt by the crowd. Below are just a few samples. Once again, head over to Edgar's blog for more as well as the letters sent to him from Gilliam, Spielberg and others.
So awesome.
Wright has hinted he doesn't think he'd attempt to do a third version of this because he set the bar way too high this time. But maybe after he goes off and wow's us with Ant Man and World's End, he'll have a few more incredibly impressive Hollywood connections and can blow the doors off the New Beverly one more time. Just hopefully not during Sundance.
Did you attend any of these screenings? Got any stories to share? And which night are you most upset to have missed?