Summit Developing Frankenstein Story 'This Dark Endeavor'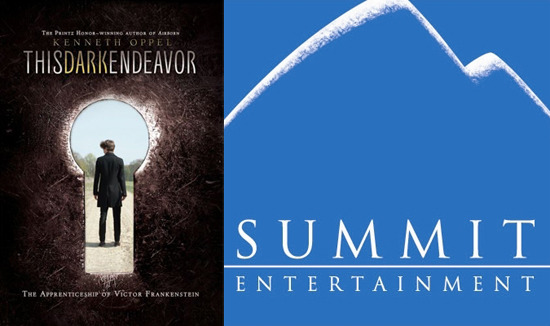 The latest young adult novel to be optioned by a studio seeking Twilight style success is Kenneth Oppel's This Dark Endeavor. In this case, it is Summit, the Twilight studio, that has actually picked up the option, and sparkly vampire veteran Karen Rosenfelt will produce.
The book is about a young Victor Frankenstein who tries to save his gravely ill younger brother Konrad by finding the materials needed to create the Elixir of Life. Eventually, it sets up the story for Mary Shelley's classic Frankentein.
Deadline says that Universal, still evidently planning to do a new version of Frankenstein with Guillermo del Toro, was interested, but Summit snapped up the rights. The novel won't be published until August, but here's the rundown:
Victor and Konrad are the twin brothers Frankenstein. They are nearly inseparable. Growing up, their lives are filled with imaginary adventures...until the day their adventures turn all too real. They stumble upon The Dark Library, and secret books of alchemy and ancient remedies are discovered. Father forbids that they ever enter the room again, but this only peaks Victor's curiosity more. When Konrad falls gravely ill, Victor is not be satisfied with the various doctors his parents have called in to help. He is drawn back to The Dark Library where he uncovers an ancient formula for the Elixir of Life. Elizabeth, Henry, and Victor immediately set out to find assistance in a man who was once known for his alchemical works to help create the formula.
Determination and the unthinkable outcome of losing his brother spur Victor on in the quest for the three ingredients that will save Konrads life. After scaling the highest trees in the Strumwald, diving into the deepest lake caves, and sacrificing one's own body part, the three fearless friends risk their lives to save another.