Jim Caviezel, Chiwetel Ejiofor And Jack McBrayer Cast In 'Savannah'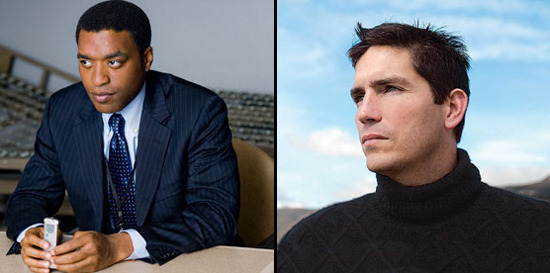 Annette Haywood-Carter, a former script supervisor who jumped to directing (Foxfire, with a young Angelina Jolie, for instance), is preparing to shoot the period drama Savannah in the Georgia town of the same name, and has secured the final pieces of the film's cast. Jim Caviezel and Chiwetel Ejiofor have joined Bradley Whitford, Jaimie Alexander, Jack McBrayer and Hal Holbrook.
Back in November, the director told Savannah Magazine,
It's a story about this very eccentric, bigger-than-life hunter named Ward Allen and his friendship with a freed slave named Christmas Moultrie.  This is the perfect movie for Savannah because it really showcases the city's eccentric characters.
Jim Caviezel will play Ward Allen, and Chiwetel Ejiofor will be Christmas Moultrie.
The source of the story is reportedly John Eugene Cay, Jr's book Ducks, Dogs and Friends, which tells the story of Christmas Moultrie, the last slave born on the plantation where the cotton gin was invented. There's not a lot of additional information out there about the story — Cay, Jr.'s book seems to be the primary source of history on the subject. A Georgia Historical Society listing of an undated photograph of Christmas Moultrie offers this brief bio, adding that Ward Allen was "a professional duck hunter and gentleman from Savannah."
Christmas Moultrie was born a slave on 25 December 1857 on the Mulberry Grove Plantation, west of Savannah, Georgia. He died on 23 April 1956 and is buried in the Cherokee Hill Cemetery in Port Wentworth, Georgia.
Shooting is set to start on February 14.
[Variety]