Javier Bardem Offered Starring Role In New James Bond Film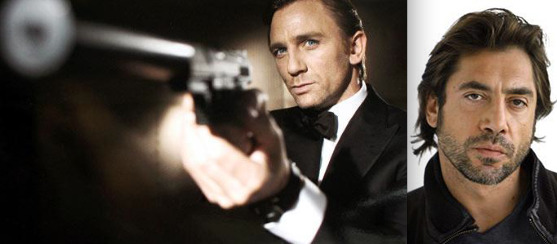 Javier Bardem has been pretty unstoppable this week. In the past 7 days alone, Bardem has received an Academy Award nomination for Best Actor and been offered a lead role in Ron Howard's Dark Tower adaptation. On top of all that, we've now learned that Bardem has been offered a starring role in the 23rd James Bond film. Hit the jump to find out what we know.
The news comes from Deadline, who reports that  the offer to appear in the next Bond was extended last week, around the same time as the Dark Tower offer was. Nikki Finke and Mike Fleming at Deadline speculate on what this role might be, saying, "Details about the character are being kept under wraps for now. But traditionally the biggest male role opposite 007 is the villain..."
The Deadline story also contains interesting tidbits about MGM's new financing strategy. After emerging from financial ruin several months ago, MGM now finds itself in a position to choose a suitor for the next Bond film. Whoever distributes the film will likely also enter into a deal to distribute MGM's library and future content, in a co-financing deal that would make MGM cash-flow positive. According to one insider quoted by Deadline, "The quick cash flow allows MGM to have revenue which it hasn't had in a long time. Thereby their books look better, and therefore the possibility of getting more funds for production is increased. So expect whichever studio lands Bond to also announce it is several co-financing deals allowing MGM into other pics that are already shooting." Apparently, MGM is playing several studios (reportedly Paramount, Fox, Sony, and Warner Bros.) off of one other, making them "increasingly frustrated."
I'm a huge fan of Bardem's work, but we've seen the Bond series turn good actors bad (Mathieu Almaric, anyone?). Here's hoping that Bardem's role, if accepted, allows him to embrace his inner Anton Chigurh (or at least maybe that Felix guy from Collateral). To my knowledge, the 23rd James Bond film is still scheduled for release on November 9, 2012, with Sam Mendes directing.