Javier Bardem Offered Lead In 'The Dark Tower'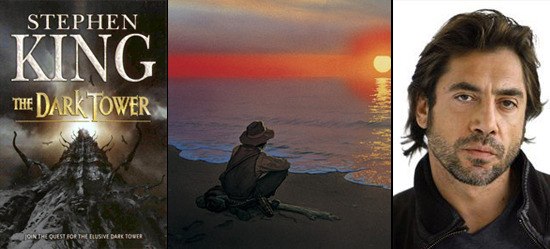 It was just earlier today that we heard Christian Bale might be on the wishlist for the role of Roland Deschain in Ron Howard and Akiva Goldsman's film and TV adaptation of Stephen King's series The Dark Tower. It seemed odd, given that Mr. Bale will soon have his hands full being Batman for a third and possibly final time. But the source was the same one that had pegged Javier Bardem and Viggo Mortensen as being serious contenders, and that info turned out to be on the money.
In fact, that info was very on the money as Deadline now reports that Javier Bardem has been offered the role. This is step one, and the site says that negotiations haven't begun, but "there's a high level of enthusiasm internally that they've got their cowboy."
So now we've got to see where this goes. It's an interesting choice and one that a few fans might have issues with, given the fervor with which I've seen Viggo Mortensen's name discussed. But I think it's a good one overall. (Deadline does mention that Christian Bale was indeed part of the discussions, but it seems like without a big refusal on Mr. Bardem's part, you can rule him out.)
It would be a big commitment for the actor, but possibly a very lucrative one. Ron Howard and Akiva Goldsman have called the project their Lord of the Rings, only characterized by "an alternate Americana, one part post-apocalyptic, one part Sergio Leone." There's the first film, a six-hour TV miniseries, then another film. After that comes the second TV series, which might be a prequel-ish story, and for which the lead actor for Roland might get a break. But that's a ways down the road, and in between is a serious commitment.
Here's a synopsis of the (currently) seven-book series:
The series incorporates themes from multiple genres, including fantasy fiction, science fantasy, horror and western elements. They describe a "Gunslinger" and his quest toward a tower whose nature the books call both physical and metaphorical. King has described the series as his magnum opus. Besides the seven novels that compose the series proper, many of his other books relate to the story, introducing concepts and characters that come into play as the series progresses.
In the story, Roland Deschain is the last living member of a knightly order known as gunslingers and the last of the line of "Arthur Eld", his world's analogue of King Arthur. The world he lives in is quite different from our own, yet it bears striking similarities to it. Politically organized along the lines of a feudal society, it shares technological and social characteristics with the American Old West but is also magical. While the magical aspects are largely gone from Mid-World, some vestiges of them remain, along with the relics of a highly advanced, but long vanished, society. Roland's quest is to find the Dark Tower, a fabled building said to be the nexus of all universes. Roland's world is said to have "moved on", and indeed it appears to be coming apart at the seams—mighty nations have been torn apart by war, entire cities and regions vanish without a trace and time does not flow in an orderly fashion.