'The Conspirator' Trailer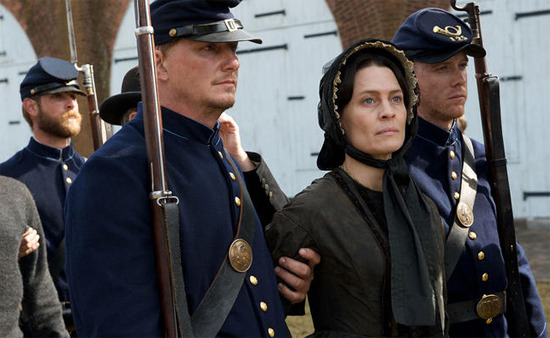 Robert Redford's The Conspirator, starring Robin Wright as Mary Surratt, the one woman charged in the conspiracy to assassinate President Abraham Lincoln and James McAvoy as her lawyer, opened at the Toronto Film Festival last year. Now there is a full-length trailer for the film, which you can see after the break.
I'm on an abominably slow connection at the moment so can't actually watch the trailer. Presented without comment then, but based on the general reception around the web it seems like the trailer plays right into some of the middling reviews the film garnered out of TIFF last September.
Yahoo has the trailer in HD.
In the wake of Abraham Lincoln's assassination, seven men and one woman are arrested and charged with conspiring to kill the President, Vice President, and Secretary of State. The lone woman charged, Mary Surratt, owns a boarding house where John Wilkes Booth, and others met and planned the simultaneous attacks.
Against the ominous back-drop of post-Civil War Washington, newly-minted lawyer, Frederick Aiken, a 28-year-old Union war-hero, reluctantly agrees to defend Surratt before a military tribunal. Aiken realizes his client may be innocent and that she is being used as bait and hostage in order to capture the only conspirator to have escaped a massive manhunt, her own son, John. As the nation turns against her, Surratt is forced to rely on Aiken to uncover the truth and save her life.