'Another Earth' Is A Sci-Fi Indie Version Of 'Bounce' [Sundance Movie Review]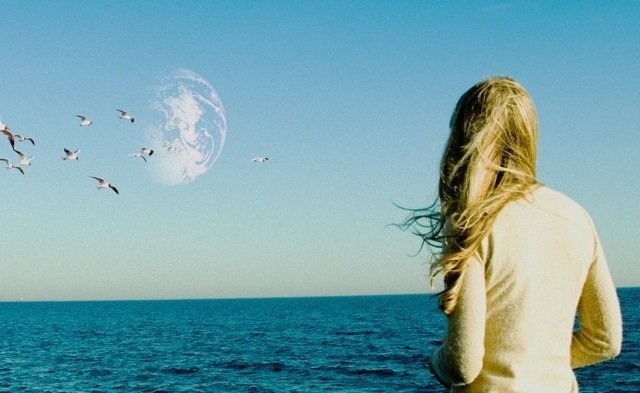 I'm always excited to see independently-produced science fiction films at the Sundance Film Festival because it usually means I'm in for a treat. Notable mentions include Shane Carruth's 2004 time travel movie Primer, and Duncan Jones' 2009 psychological space thriller Moon. This year's line-up is almost completely devoid of sci-fimovies. As far as I can tell, the only two films are: the Midnight movie selection Codependent Lesbian Space Alien Seeks Same and a film in the dramatic competition called Another Earth.
Another Earth is described as follows: "On the night of the discovery of a duplicate planet in the solar system, an ambitious young student and an accomplished composer cross paths in a tragic accident." Sounds like a cool concept for a sci-fi movie, right?
Unfortunately, the Twilight Zone-like premise is only used as a backdrop, a not-so-great metaphor that only really comes to affect the story in the third act. We see news and radio reports about the other Earth, we see the planet in the sky during the outdoor scenes, and there is a highly publicized contest to pick a civilian to come aboard the shuttle to the other planet.
There is so much more potential in this concept, but the movie wants to be something else entirely — an indie slightly-scifi drama version of the Ben Affleck/Gwyneth Paltrow romantic drama Bounce (which isn't necessarily a bad thing). If you're willing to accept the sci-fi conceit, the film works as a compelling drama. But the sci-fi elements just feel out of place (as cool as they might be). The bottom line is — this isn't the droid you're looking for.
The screenplay was co-written by the lead actress Brit Marling and is pretty well crafted. William Mapother's performance borders on over melodramatic at moments. Marling, who also wrote and stars in another Sundance film this year, Sound of My Voice, shows a lot of promise — I look forward to seeing more from her.
/Film Rating: 7 out of 10