New Posters: 'Hanna' One-Sheet And Character Posters For 'Sucker Punch'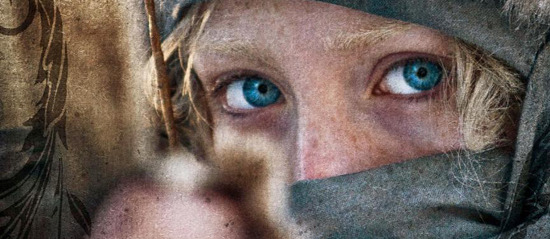 Like your female characters to be packing heat? Was True Grit's Mattie Ross not enough of a badass? Then here are images for Joe Wright's teen assassin film Hanna and Zack Snyder's Sucker Punch. All feature young women that are as likely to take your head off as smile at you. More likely, in all probability. See 'em all after the break.
The Hanna poster doesn't show us much that we haven't seen before — it's a shot along the lines of the first official still from the film, albeit a more imposing one. Here's the synopsis, which Focus Features will open on April 8:
Raised by her father (Eric Bana), an ex-CIA man, in the wilds of Finland, Hanna's (Saoirse Ronan) upbringing and training have been one and the same, all geared to making her the perfect assassin. The turning point in her adolescence is a sharp one; sent into the world by her father on a mission, Hanna journeys stealthily across Europe while eluding agents dispatched after her by a ruthless intelligence operative with secrets of her own (Cate Blanchett). As she nears her ultimate target, Hanna faces startling revelations about her existence and unexpected questions about her humanity.
Click the poster to enlarge. Watch the trailer here.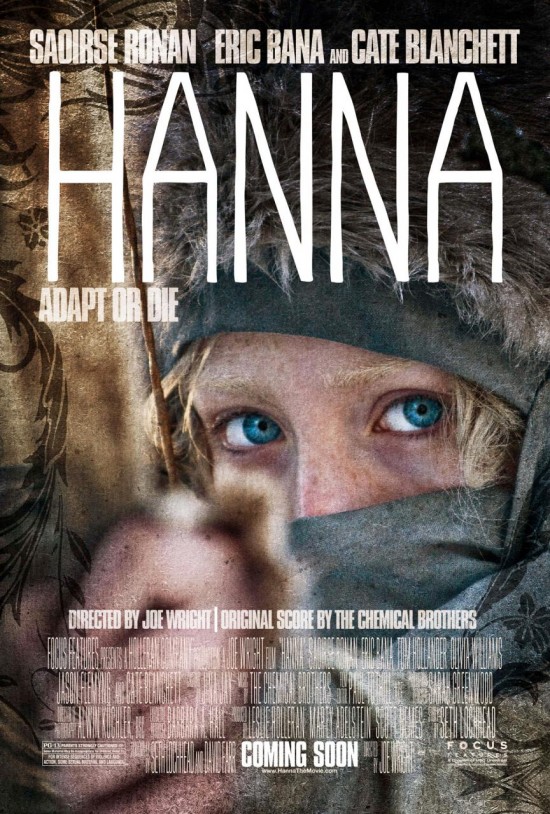 The Sucker Punch images come from MSN, and they show detailed and action-packed character looks at Blondie (Vanessa Hudgens), Rocket (Jena Malone), Amber (Jamie Chung), Sweet Pea (Abbie Cornish) and Baby Doll (Emily Browning).
Here's the very long synopsis for Sucker Punch, which opens on March 25:
"Sucker Punch" is an epic action fantasy that takes us into the vivid imagination of a young girl whose dream world provides the ultimate escape from her darker reality. Unrestrained by the boundaries of time and place, she is free to go where her mind takes her, and her incredible adventures blur the lines between what's real and what is imaginary.
She has been locked away against her will, but Babydoll (Emily Browning) has not lost her will to survive. Determined to fight for her freedom, she urges four other young girls—the outspoken Rocket (Jena Malone), the street-smart Blondie (Vanessa Hudgens), the fiercely loyal Amber (Jamie Chung) and the reluctant Sweet Pea (Abbie Cornish)—to band together and try to escape their terrible fate at the hands of their captors, Blue (Oscar Isaac), Madam Gorski (Carla Gugino) and the High Roller (Jon Hamm).
Led by Babydoll, the girls engage in fantastical warfare against everything from samurais to serpents, with a virtual arsenal at their disposal. Together, they must decide what they are willing to sacrifice in order to stay alive. But with the help of a Wise Man (Scott Glenn), their unbelievable journey—if they succeed—will set them free.