'Blue Velvet' Blu-Ray May Include Scenes Previously Thought Lost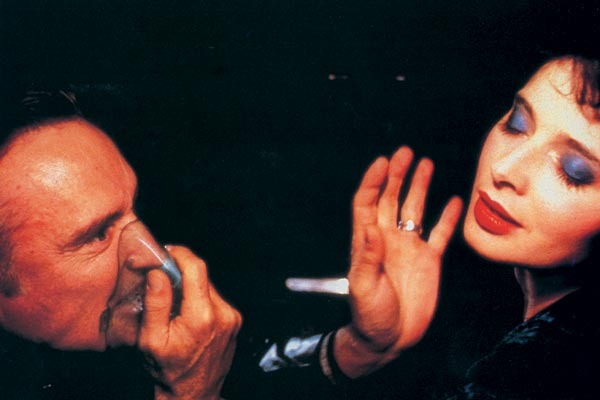 Here's the best news I've heard all day: David Lynch says that footage previously thought lost from a rough cut of Blue Velvet has been found and may be included on the forthcoming Blu-ray release of the film. A new HD transfer of the director's landmark picture — which will hopefully showcase the incredible cinematography of Frederick Elmes with new detail and subtlety — is exciting enough. But to think we might get some new footage is absolutely thrilling. Details after the jump.
This information comes directly from David Lynch, who told KCRW (via Dark Horizons):
There is a thing called b-negative, or outtakes, or lifts, that don't make it into the film. And in the old days, those things sat around and maybe became dangerously close to being tossed away. Then the internet comes, and people want to see deleted scenes and things like this, so those things become more and more valuable.
So, one day I looked into seeing where the lifts were because some of these scenes on their own would be beautiful to see again. So I find out that Dino, the producer, doesn't know where they are. They've gone. His company went bankrupt, it was taken over by another company, and then it was sold to other companies. No one knew where they were, they were gone. So depressing.
Lately, those have been found. Somewhere up in Seattle. It's incredible. I'm seeing stuff I thought was gone forever. And hopefully some of those scenes (some of them aren't worth putting back together) will end up on the new Blu Ray.
Blue Velvet is one of several David Lynch films for which we knew a great deal of additional footage was shot but ultimately cut. Most films have deleted scenes, but these films (including Dune, Wild at Heart and Twin Peaks: Fire Walk With Me) had entire characters and subplots cut. The Dune footage has long been seen through various alternate cuts of the film. The Wild At Heart footage was released as part of the Lime Green box set a few years ago, and there have long been hopes that the additional Fire Walk With Me footage might be reinstated for a home video release. (That footage includes some fan-favorite characters, like the Log Lady, that appeared in the Cannes cut but not later edits.)
But the Blue Velvet footage is a sort of holy grail. There are stills from some of the excised scenes (below) and thanks to a 1991 issue of Video Watchdog, we know a lot about what was cut.
There is footage of Jeffrey (Kyle MacLachlan) at college, where he sees a date rape in the making before getting the call that his father has suffered a heart attack. There is an earlier introduction of Laura Dern's character in her family home, and  footage of her boyfriend Mike.  Better yet, there's a scene where Jeffrey catches Dorothy Valens (Isabella Rosselini) flushing an ear down the toilet and then a strange rooftop scene between the pair. A few other scenes exist, including at least one with Frank Booth (Dennis Hopper) and a police station scene that visually prefigures Twin Peaks. (See the image with the log in the gallery below.)
We don't know which of these scenes might be seen (based on Mr. Lynch's comments, I wouldn't expect all of them) but I'd take anything he's willing to show us. I can't imagine he'd cut them back into the movie, but that's fine — let the existing cut of Blue Velvet stand, and we can enjoy these (re)discoveries as a great, unexpected bonus.
(Images and some info via DVDTalk.)