James Franco In Talks For Linda Lovelace Biopic From 'Howl' Directors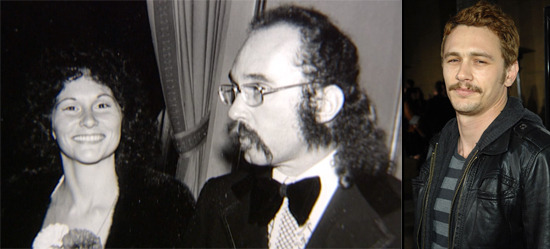 We really can't go two days lately without a James Franco casting story. This particular story is one which might bring him back together with his Howl directors Rob Epstein and Jeffrey Friedman. A year ago we heard the pair were developing a film about porn star Linda Lovelace, based on Eric Danville's book The Complete Linda Lovelace.
And now Mr. Franco is in talks to play what would be the most unlikeable role of his career to date: Chuck Traynor, the man who discovered and married Linda Lovelace, and reportedly forced her into prostitution and threatened her at gunpoint into performing in Deep Throat.
Deadline says that Kate Hudson has been offered the Linda Lovelace role, but that the film has been looking for funding since it was first announced at Sundance last year. James Franco's schedule is going to be a stumbling block, and that situation may get more complicated if he scores an Oscar nomination tomorrow morning. Then again, if he does sign onto the film, that could help lock Kate Hudson and the financing might quickly come together.
(Note that this is a totally different film from Inferno, which is the other Linda Lovelace film that once had Lindsay Lohan set to star, and now has Malin Akerman attached.)
While I'm not convinced that we need either of these films — Inside Deep Throat is a pretty good document of the history — I'd love to see James Franco play Chuck Traynor. This is a guy whose life has been defined by very serious accusations: that he forced Linda Lovelace to have sex with five men for money by threatening to shoot and kill her if she refused; he would beat her regularly; he threatened her family; he forced her to make porn, and allowed men to rape her.
The allegations have been called untrue, some were recanted, and Chuck Traynor was never convicted of sexual crimes. But the sister of Linda Lovelace said "I curse the day that she ever met Chuck Traynor. Unfortunately he died before I could kill him."
Setting aside what Chuck Traynor might have been as a human being, what sort of role could that be for James Franco? If he could portray some of that on screen but also capture something beyond the most superficial evil that would be so easy to fall into, it might be a hell of a performance.