'Page One: A Year Inside The New York Times' And 'These Amazing Shadows' – Great Documentaries With A Similar Flaw [Sundance Review]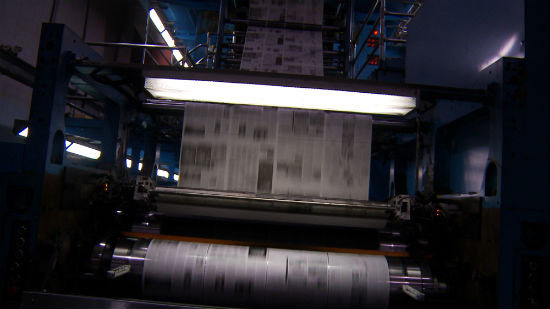 Monday at the Sundance Film Festival I spent a year at the New York Times and 100 years at the movies. Two documentaries, Page One: A Year Inside The New York Times and These Amazing Shadows, both impressed with their poignancy and entertainment value. Both, however, are plagued with the same flaw – a penchant to go off on tangents and stay away from a narrative core. In each case these tangents are actually pretty interesting, adding to your enjoyment, but as a whole film, each suffers ever so slightly.
Page One is exactly what the title says, "A Year Inside the New York Times." It follows several prominent reporters and stories over the course of a year while simultaneously exploring the role of print media in today's digital age. These Amazing Shadows tells the tale of the National Film Registry and the role they play in preserving and restoring films. But, really, it's just an excuse to talk about awesome movies for 90 minutes. Read more about each after the jump.
For a long time, The New York Times was the gold standard in media. Its legacy was only trumped by its authority and everyone aspired to live up to its high quality. However, because of the rise of the internet and the blogosphere, newspapers like the Times are in peril. Can the New York Times still exhibit that kind of power today? Director Andrew Rossi and his team pick up the story a few years into this new media blitz as the Times has been adjusting to the changes, hiring famous bloggers like Brian Stelter and assigning seasoned veterans like David Carr to cover media. We follow each of these reporters, along with a handful of others, as they uncover stories like the first ever break of WikiLeaks or the bankruptcy of the Tribune Company. Along the way, though, the film veers off on several asides, covering conferences and interviewing prominent media figures, as a way to validate the legacy of the Times in today's ever changing world.
If you're a fan of reporting, or media in general, Page One is a gold mine of ideas, awesome scenes and quotes. Even when it veers off the path – if there ever was a path beyond the promise of the title – it's still rich in almost every way. As a whole film, Page One isn't incredible, but in parts, it approaches that.
Much of the same can be said for These Amazing Shadows, directed by Paul Mariano and Kurt Norton. It begins with Ted Turner, who famously wanted to colorize all of the classic MGM films, and shows how that was a wake up call to the film community. As a result, Congress formed the National Film Registry for which 25 films, not just narratives and documentaries but culturally significant films of any kind including home movies, music videos, commercials, cartoons and more, are selected each year to be preserved. Once we're taken through the creation of that governing body, the film basically explodes into a love letter to cinema with famous filmmakers and historians talking about their favorite films in the Registry and, in some cases, their restoration.
The scenes in These Amazing Shadows where there is significant restoration or discovery, such as in the case of The Godfather or Babyface, in which several minutes of sexually suggestive content was rediscovered, are its best. Then it's just simply cool to see Christopher Nolan talk about the influence of Star Wars, John Waters talk about wanting to live in The Wizard of Oz, Tim Roth tearing up talking about To Kill a Mockingbird or Rob Reiner describe the first time he saw It's a Wonderful Life.
Basically what you take out of These Amazing Shadows is that our films are the "family album" of the world. Due to the National Film Registry, people who live generations from now will know about our society because of the films that were made. It's a very cool and inspiring concept that might not have needed a 90 minute movie to describe, but for 90 minutes, you'll revel in how much you love movies.
/Film Ratings
Page One: A Year Inside The New York Times – 8 out of 10
These Amazing Shadows – 7 out of 10