2010 Razzie Nominations Announced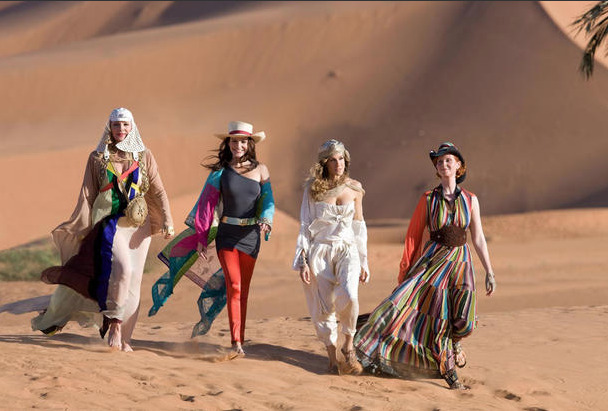 Tomorrow the Oscar nominations will be announced, which means that today is the day for the Golden Raspberry Foundation to release the nominations for the 2010 Razzies. To no one's surprise, the list pokes a stick at The Bounty Hunter, The Last Airbender, Sex and the City 2, and other less scintillating moments from 2010. Check out the list after the break.
I'll admit that I don't have much appreciation for the Razzies. Nominating a film like Vampires Suck as worst of 2010 is accurate, but not all that interesting. Of course Vampires Suck is terrible. I'd rather just forget it, rather than give it a nomination for anything. And without the irony factor of Sandra Bullock being nominated for a Razzie and an Oscar in the span of 24 hours, this particular aspect of the awards race doesn't have much zing.
But what the hell; people love poking fun at disasters. So here are all the nominations, such as they are:
WORST PICTURE
The Bounty Hunter
The Last Airbender
Sex and the City 2
Twilight Saga: Eclipse
Vampires Suck
WORST ACTOR
Jack Black / Gulliver's Travels
Gerard Butler /The Bounty Hunter
Ashton Kutcher / Killers and Valentine's Day
Taylor Lautner / Twilight Saga: Eclipse and Valentine's Day
Robert Pattinson / Remember Me and Twilight Saga: Eclipse
WORST ACTRESS
Jennifer Aniston / The Bounty Hunter and The Switch
Mylie Cyrus / The Last Song
Sarah Jessica Parker, Kim Cattrall, Kristin Davis & Cynthia Nixon / Sex & the City 2
Megan Fox / Jonah Hex
Kristen Stewart / Twilight Saga: Eclipse
WORST SUPPORTING ACTRESS
Jessica Alba / The Killer Inside Me, Little Fockers, Machete and Valentine's Day
Cher / Burlesque
Liza Minnelli / Sex & the City 2
Nicola Peltz / The Last Airbender
Barbra Streisand / Little Fockers
WORST SUPPORTING ACTOR
Billy Ray Cyrus / The Spy Next Door
George Lopez / Marmaduke, The Spy Next Door and Valentine's Day
Dev Patel / The Last Airbender
Jackson Rathbone / The Last Airbender and Twilight Saga: Eclipse
Rob Schneider / Grown Ups
WORST EYE-GOUGING MIS-USE Of 3-D
Cats & Dogs 2: Revenge of Kitty Galore
Clash of the Titans
The Last Airbender
Nutcracker 3-D
Saw 3-D (aka Saw VII)
WORST SCREEN COUPLE / WORST SCREEN ENSEMBLE
Jennifer Aniston & Gerard Butler / The Bounty Hunter
Josh Brolin's Face & Megan Fox's Accent / Jonah Hex
The Entire Cast of The Last Airbender
The Entire Cast of Sex & The City 2
The Entire Cast of Twilight Saga: Eclipse
WORST DIRECTOR
Jason Friedberg & Aaron Seltzer / Vampires Suck
Michael Patrick King / Sex & The City 2
M. Night Shyamalan / The Last Airbender
David Slade / Twilight Saga: Eclipse
Sylvester Stallone / The Expendables
WORST SCREENPLAY
The Last Airbender, Written by M. Night Shyamalan, based on the TV series created by Michael Dante DiMartino and Brian Konietzko
Little Fockers, Written by John Hamburg and Larry Stuckey, based on Characters Created by Greg Glenna & Mary Roth Clarke
Sex & the City 2, Written by Michael Patrick King, Based on the TV Series Created by Darren Star
Twilight Saga: Eclipse, Screenplay by Melissa Rosenberg, Based on the Novel by Stephenie Meyer
Vampires Suck, Written by Jason Friedberg & Aaron Seltzer
WORST PREQUEL, REMAKE, RIP-OFF or SEQUEL
Clash Of The Titans
The Last Airbender
Sex & The City 2
Twilight Saga: Eclipse
Vampires Suck