Kevin Smith Buys His Own Film At Sundance Auction, Swears Off Distributors, And Announces Full Details For Self-Distribution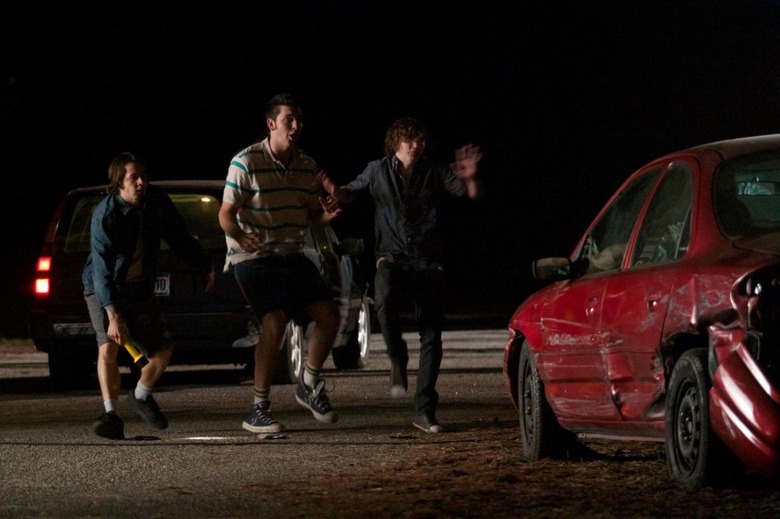 This evening, Red State premiered in front of more than 1,200 people at the Eccles Theatre at the 2011 Sundance Film Festival. As you might have heard, Smith had announced that he would be auctioning the film off following the screening. Not only did that not happen (Smith's producer jokingly auctioned the film off to Smith himself for a scant $20), Smith also went on a 25-minute diatribe explaining, in mathematical detail, the problems with modern movie distribution and announced his own plans to distribute Red State to the masses.
Hit the jump for all the details.
Typically at Sundance, a Q&A follows the film screening. I've always enjoyed Smith's Q&As, so I was looking forward to some lively banter between Smith and the audience this evening. Instead, after speaking in broad terms about the direction of his career, Smith veered off and began delving into the finances of film distribution.
The thrust of it is this: it cost Red State roughly $4 million to make, and Smith didn't see any sense in spending $20 million (i.e. 5 times the amount it cost to make the film) just to advertise it. Smith also was tired of huge marketing expenditures whose efficacy would be determined within a period of three days.
"Selling my film would be like having a baby and then selling it to somebody else to raise," Smith said. Smith then announced that he would auction the film off, but said "I can't speak for the movie by myself, I'm not the only one. I'm just the writer/director. I would like John Gordon to come up here real quick." Producer John Gordon took the stage, announced the beginning of the auction, and Smith bid $20, at which point Gordon declared it "Sold!"
After that, Smith announced that the film would be self-released under the Smodcast Pictures on October 19th 2011, the 17th anniversary of Smith's feature debut Clerks. Smith will be going old school and take Red State around the United States to many major cities. "It's called the Red Sate USA Tour", Smith declared. It will begin on March 5th 2011 with a showing at Radio City Music Hall in New York City. Click here for the full list of cities and all the details.
Smith plans to tour with the film until October 19th and claims that they will make back almost half (a projected $1.5-$1.7 million) of the film's $4 million budget by that point. After that, the film will be conventionally released, although Smith claims he will not spend any money on conventional advertising, opting to pay only for the "P" in the "P&A" outlay. He also said that he would offer theater exhibitors more favorable terms than conventional studios, essentially thumbing his nose at all the studio reps that were in the room (some of whom, one assumes, came hoping for a chance to acquire his film in the first place).
Smith claims that this is his second-to-last film and that after his next film Hit Somebody, he's going to focus solely on producing and distribution. Whatever happens with that plan, Smith's distribution strategy for Red State is certainly an interesting one, and it will be interesting to see it play out in the days to come.