'The King's Speech' Wins Producers Guild Top Award For 2010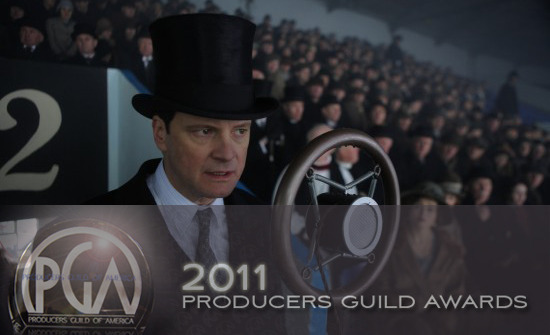 For those keenly interested in the award season race, here's the first big upset of the year: the winner of the Producer's Guild of America (PGA) Producer of the Year award for films released in 2010 — aka the organization's Best Picture award — is The King's Speech. That represents a big upset over The Social Network, and seems to dramatically alter predictions for the Oscar race. The full list of winners is after the break.
This is the place that most had predicted The Social Network to be a winner once again. David Fincher's film has scored loads of other awards over the past two months, and a PGA win would have made it look like a real lock for a Best Picture win come Oscar time.
Now it looks like The King's Speech could more of a contender for the Best Picture Oscar than some had thought. Remember that the PGA win last year, for example, went to The Hurt Locker rather than Avatar, and the Oscars followed suit. The PGA isn't quite as useful a determinant for the Best Picture race as some other guild awards are for their respective Oscar categories (the DGA and Best Director, for example) but it's a serious indicator of where the Academy might vote.
Here's the full list of winners:
Darryl F. Zanuck Producer of the Year Award in Theatrical Motion PicturesWinner:The King's Speech (Iain Cunning, Emile Sherman, Gareth Unwin)
Other nominees:
Black Swan (Scott Franklin, Mike Medavoy, Brian Oliver)The Fighter (David Hoberman, Todd Lieberman, Mark Wahlberg)Inception (Christopher Nolan, Emma Thomas)The Kids Are All Right (Gary Gilbert, Jeffrey Levy-Hinte, Celine Rattray)127 Hours (Danny Boyle, Christian Colson)The Social Network (Dana Brunetti, Ceán Chaffin, Michael De Luca, Scott RudinThe Town (Basil Iwanyk, Graham King)Toy Story 3 (Darla K. Anderson)True Grit (Ethan Coen, Joel Coen, Scott Rudin)Outstanding Producer of Animated Theatrical Motion PicturesWinner:Toy Story 3 (Darla K. Anderson)
Other nominees:
Despicable Me (John Cohen, Janet Healy, Christopher Meledandri)How to Train Your Dragon (Bonnie Arnold)Outstanding Producer of Documentary Theatrical Motion PicturesWinner:Waiting for Superman (Lesley Chilcott)
Other nominees:
Client 9: The Rise and Fall of Elliot Spitzer (awaiting final credit determination)Earth Made of Glass (Reid Carolin, Deborah Scranton)Inside Job (Charles Ferguson, Audrey Marrs)Smash His Camera (Linda Saffire, Adam Schlesinger)The Tillman Story (John Battsek)Milestone Award
James Cameron
David O. Selznick AwardScott RudinStanley Kramer AwardSean PennVisionary AwardLaura Ziskin