'Margin Call' Picked Up By LionsGate And Roadside Attractions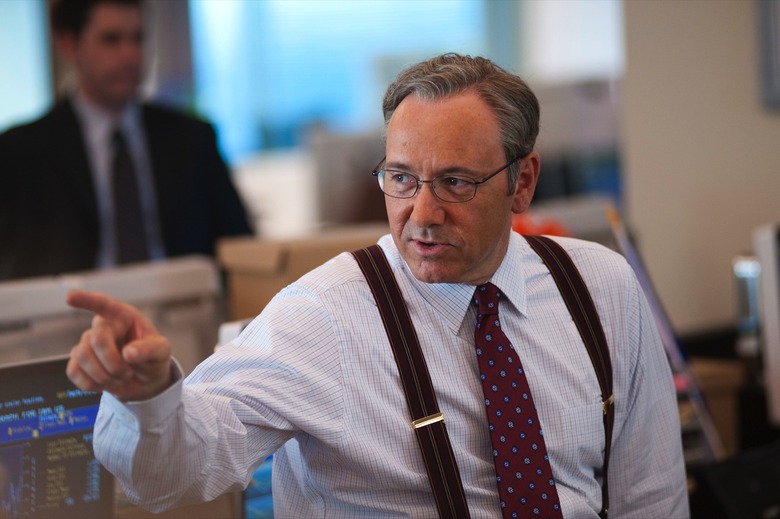 At the end of this first weekend of the 2011 Sundance Film Festival there have been two major buys. One was made by Paramount for Like Crazy, one of the most-praised films at the fest so far. (Look for our review tomorrow morning.) And on the other side of the spectrum, LionsGate and Roadside Attractions have teamed up to buy J.C. Chandor's debut feature Margin Call, which has garnered some of the poorer reviews of the fest.
Margin Call follows a group of individuals working in the financial sector as the 2008 economic collapse looms. Our own David Chen called the film a 'cinematic disaster' in the headline of his review, going on to say "I have literally heard finance-centered episodes of NPR's Fresh Air that were more informative, more exciting, and more emotionally loaded than the entirety of Margin Call."
But star power, or at least recognizable faces, do a lot for the sales potential of a film, and Margin Call boasts Kevin Spacey, Paul Bettany, Jeremy Irons, Zachary Quinto, Penn Badgley, Simon Baker, Mary McDonnell and Stanley Tucci.
So after a long bidding session, LionsGate and Roadside Attractions had partnered to deliver the winning bid for rights to distribute the film. The companies are obviously banking on the idea that those faces will outweigh any other factors, and the deal serves as a rebuttal to David's final statement on the film: "I can't imagine anyone I know who would want to watch this film. I can't imagine any studio that would want to buy or distribute this film, seeing as how there is no scenario I could envision in which it would perform well at the box office."
Details on the release plan for the film have yet to be released. [Deadline]