Kevin Smith's 'Red State' - Quick First Reactions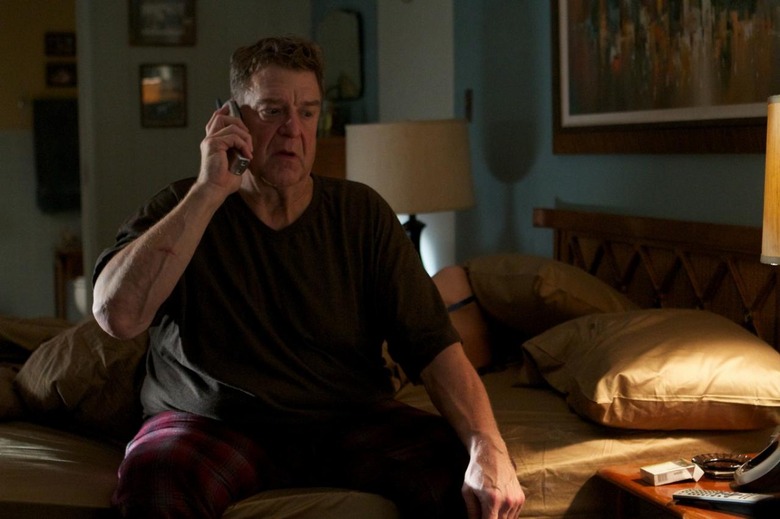 Update: Germain has posted a full review which you can read right now here.
The world premiere, first-time-anyone-has-seen-it screening of Kevin Smith's Red State just ended at the 2011 Sundance Film Festival. Full reviews, video blogs and a report on the Q&A/auction are coming, but first, as the credits were rolling here at the Eccles Theater, we thought you'd immediately want to know how it was from multiple points of view.
Smith's first foray into horror, about a trio of high school boys who find themselves face to face with a "holy force with a fatal agenda," has gained an abundance of online notoriety and buzz thanks to Smith's battles with bloggers, refusal to do press, promise of a post-premiere auction for the distribution rights, a dedicated podcast and much much more. Even before people got to Park City, the film was the festival's hottest ticket, with scalpers getting in the hundreds on eBay. It's also only scheduled to screen twice (with no official press screening).
Being that it's Smith, it's controversial, and everyone wants to know about it, we at Slashfilm have gone above and beyond to attempt to bring you all the Red State coverage you can handle. After the jump, read three immediate, during the credits, reactions to the film.
Here's what each of us thought.
David Chen - Red State is unlike anything Kevin Smith has ever done, in virtually every respect possible, and that's what makes it the biggest surprise of the Sundance Film Festival. This film offers a non-stop barrage of violence and religious terror that will pin you to your seat. Michael Parks is a revelation (no pun intended) as the ultra-creepy religious/cult leader. But in my opinion, it's Smith who earns the most respect from me as a result of this project. He's taken a chance in creating something wholly different, shocking, and risky. I won't be able to get this film out of my head for a long time to come.Peter Sciretta - People are going to want to know how this compares to Smith's other films. It's so hard to compare because this is such a different movie in almost every aspect. I would say this is the best film he's made since Chasing Amy. In this film, Smith has become something more than a comedy director — he shows real skill presenting action sequences which are both thrilling and well shot. The performances are great across the board, but particularly Michael Parks and Melissa Leo. The film is not just a horror movie but a statement (maybe too obvious at moments) about religion and government that shouldn't be missed. That said, it isn't without its flaws. Parks delivers a 20 or so minute sermon which should be cut down. It dragged. Also Smith inserts some comedy beats, which while funny, feel out of place in the middle of all the drama.Germain Lussier - Yeah, that wasn't what I expected. Red State is raw, it's intense, it's incredibly violent and it even has a unique voice. Kevin Smith proves that, when left to his own devices, the talent is still there. He does fall back into his old habits of letting characters talk for way too long and explain way too much all in one scene, but this really isn't a movie that you ever expected from Smith. It's different, flawed, but incredibly interesting and even powerful.
We'll have much more Red State coverage in the coming hours – reviews, video blogs, reports on distribution and more. Check our Twitters (Peter, David and Germain) and keep it locked right here.