The Movies People Are Buzzing About At Sundance 2011 (Day 3)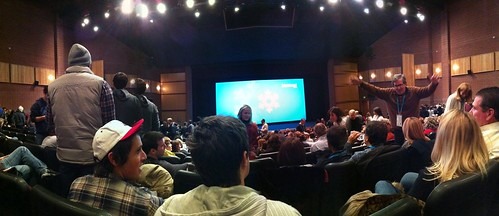 If you've been reading this site for awhile or if you've been following me on Twitter, you'll know that whenever I cover events like Sundance, I try to capture as much video, audio, and photographic material as humanly possible. Our goal here at /Film is to try to convey the actual experience of going to Sundance, since many of us will never get the chance to go.
It's been a few days now, and already there are a few films that are receiving a ton of positive buzz. After the jump, you'll find audio of my conversations with several fantastic film writers about which films have excited and disappointed them.
The morning after opening night, I chatted with Jeff Goldsmith from Creative Screenwriting Magazine. The dude had already seen three films and the festival had barely began!
While in line for my first screening of the day, I overheard someone saying that he thought MIranda July's newest film, The Future, was the worst film he'd ever seen at Sundance. When I tweeted this, several of my fellow critics protested this evaluation. So I interviewed the guy to ask him to elaborate on his thoughts. Be sure to check out Germain's opinion for an alternate take.
In this morning audio blog, I talked with Drew at Hitfix about some films he liked (Here's his review of Bellflower) and Dustin from Pajiba expressed his hatred for Kaboom:
James Rocchi from MSN Movies really did not enjoy The Ledge, but I don't think Germain hated it quite as much:
I also had a chance to chat with Anne Thompson about some of her favorite films at the festival. We also give some brief thoughts on My Idiot Brother, whose premiere we had just witnessed:
And here's a bonus interview I did with my bus driver. His wife is a stripper, but that's cool with him.