'Tron 3' Teaser Details Emerge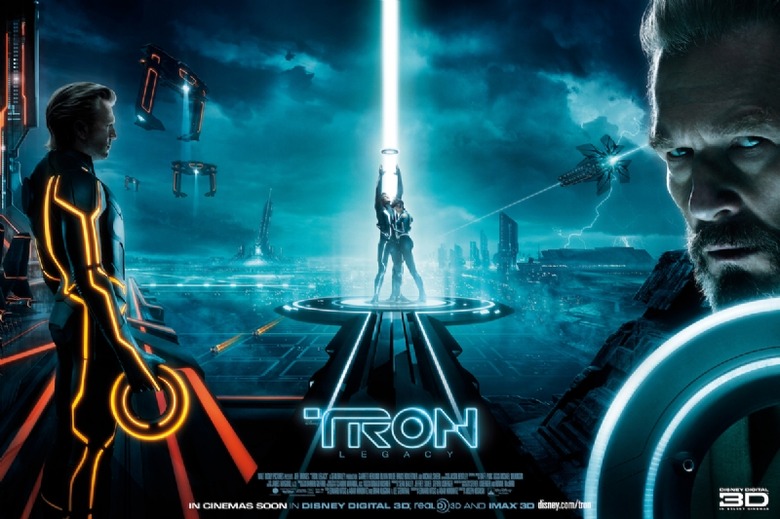 Yep, you read that right. For the last few weeks there has been a persistent rumor going around that the Tron Legacy DVD and Blu-ray release would feature a teaser for Tron 3. We haven't run much because we couldn't confirm it 100%, but someone else got some pretty detailed information that suggests the rumor was true. The info, which is obviously spoilerish if you don't want to know anything at all, is after the break.
AICN got the scoop from someone reportedly on set for the shoot. He says there will be at least three scenes. One has Bruce Boxleitner playing Alan and Dan Shor playing Ram. Another scene shows Olivia Wilde as Quorra arriving at the ENCOM building, where she is mobbed by press as she claims to have just spoken to Kevin Flynn. Finally there were tests shot for some interaction between Ed Dillinger (played by David Warner in Tron) and his son (played by Cillian Murphy in a Tron Legacy cameo) "stating that everything is going as planned." Harry said this "involved text screens," so we may not see the actors, or even hear them.
But it's that last bit that got me interested. Tron Legacy did a pretty good job of shutting down any interest I had in the series, but I know there are many who don't feel the same way. And if there is a third film and David Warner is involved, especially with he and Cillian Murphy plotting some villainy, I'll have to pay attention.
An April 11 release is reportedly scheduled for the UK version of Tron Legacy on DVD and Blu-ray, and there is no confirmed US release at this point. We'll report more when info becomes available.
So does this mean Tron 3 is really happening? As Harry says in his piece, this stuff was shot last year before Tron Legacy was released — it's not something done in the wake of the film's reception. That's important.
You'd think that greenlighting something like Tron 3 is a deal that Disney would announce to the world, so interpret the fact that there isn't even yet an official blu-ray announcement of Tron Legacy, much less an official announcement of a third film, however you will. At a $330m worldwide gross Tron Legacy can't even be close to being profitable, so wait and see what happens in the next few months.
The image below is one of two sent to AICN (check there for the other) that seems to show the set for the Bruce Boxleitner and Dan Shor scene.