'Win Win' – A Funnier, Warmer, More Crowd-Pleasing 'Blind Side' (With High School Wrestling) [Sundance Review And Video Blog]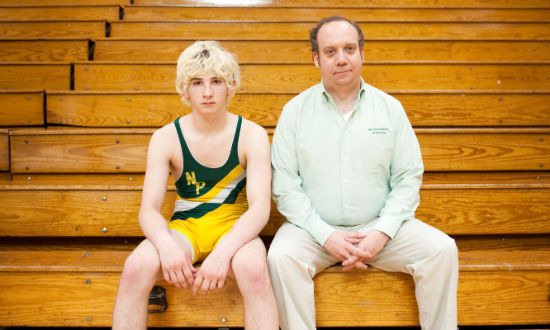 Editor's Note: This review of Win Win originally ran in January when we saw it at the Sundance Film Festival. Since the film opens in limited release today, we decided to republish it.
A movie like Win Win is why you come to the Sundance Film Festival. Directed by Tom McCarthy, it stars Paul Giamatti, Amy Ryan, Bobby Cannavale and Jeffrey Tambor in the hilarious, heartwarming story of a happy, but financially troubled family, who find themselves taking care of a 16-year-old boy . That boy, played by newcomer Alex Shaffer, just so happens to be a champion wrestler and Giamatti's character just so happens to be a wrestling coach. However, the film is much more than just a simple sports movie or family drama. It integrates the two in a way that's both organic and accessible.
McCarthy has made a winning film that's very easy to love. And I do. Read my review and see a video blog about it featuring myself and Peter after the jump.
Here's our video blog about Win Win. If you want to read instead of watch, the review continues below.
Mike Flaherty (Giamatti) is a lawyer by day, high school wrestling coach by night. Though he loves his wife Jackie (Ryan) and their two daughters, he's struggling to make ends meet. He sees an opportunity to make some more money in the person of Leo (Burt Young) an old man in need of a guardian. Mike takes the job but doesn't realize Leo's grandson Kyle (Shaffer) is going to show up out of nowhere. Forced to take care of Kyle, Mike and Jackie begin to develop parental feelings for him, especially as he blossoms through wrestling. But as Kyle becomes part of the family – both at home and at school – things begin to get complicated.
McCarthy had previously directed two movies, The Station Agent and The Visitor, both of which are really good in their own right. But Win Win is much more accessible and, dare I say, better. Every single character is realistic, unique and down to earth. No one is over the top or unlikable. Even Kyle, a rebel 16 year old, is treated with respect. While most films portray teenagers as spawns of Satan, Kyle might have his issues, but he's a genuinely good kid which is so rare to see in a movie. Then there's Terry (Cannavale), Mike's best friend who acts sort of as the audience's id. He says what he wants, does what he wants and is totally brilliant in doing it. But again, he's grounded and lovable, not some wild idiot. Among a slew of fantastic performances, Cannavale gives an award-worthy one.
Simply put, Win Win is a great feel-good movie. It's wrought with emotion and laughs, the story entertains and it's hard to find too much fault in a such a fun time at the movies. If you had to nitpick, the film does sort of go where you think it's going to go. But even though it is somewhat melodramatic, it never feels like a cliche because the characters are so strong, unique and real. Credit that to the script and direction by McCarthy as well as his incredible cast.
Win Win had a distributor before it even got to Sundance so, thanks to Fox Searchlight, you'll be able to check it out on March 18. And you should. It's phenomenal.