First Look: Renesmee From 'The Twilight Saga: Breaking Dawn Part I' [UPDATED]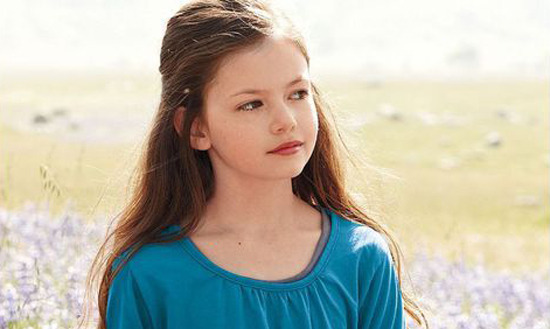 UPDATE: As some have noted, this photo of Mackenzie Foy is not a still from Breaking Dawn, but from a photoshoot with the actress. We apologize for the confusion, and blame the very Twilight-esque field of flowers. The title treatment below is the real deal, so the post stands.
Here are two tidbits from the first part of Breaking Dawn, the final chapter(s) in The Twilight Saga. Above is a crop of the first look at Mackenzie Foy as Renesmee, aka the daughter of Edward Cullen (Robert Pattinson) and Bella (Kristen Stewart). And below is a full version of that image, along with the thrilling title card (or 'title treatment' as Summit calls it) for the film.
GeekTyrant has the image of Renesmee. This is her at seven, which also happens to be the point at which she reaches full maturity. Kids grow up fast these days, especially when they're half-vampire. Or maybe it's that field of wildflowers, which these movies sure do love. The character is aware and powerful almost from the moment of conception, and quickly grows to the individual you see here.
Here's the synopsis; the full image and title treatment follow.
In the highly anticipated next chapter of the blockbuster The Twilight Saga, the newfound married bliss of Bella Swan (Kristen Stewart) and vampire Edward Cullen (Robert Pattinson) is cut short when a series of betrayals and misfortunes threatens to destroy their world. After their wedding, Bella and Edward travel to Rio de Janeiro for their honeymoon, where they finally give in to their passions. Bella soon discovers she is pregnant, and during a nearly fatal childbirth, Edward finally fulfills her wish to become immortal.
But the arrival of their remarkable daughter, Renesmee, sets in motion a perilous chain of events that pits the Cullens and their allies against the Volturi, the fearsome council of vampire leaders, setting the stage for an all-out battle. The suspenseful and deeply romantic Breaking Dawn continues the epic tale of supernatural fantasy and passionate love that has made The Twilight Saga a worldwide phenomenon.
Summit Entertainment will release Breaking Dawn Part 1 on November 18th, 2011 and Breaking Dawn Part 2 on November 16th, 2012.