Robert Downey Jr. Out Of Sam Raimi's 'Oz The Great And Powerful,' Johnny Depp Circling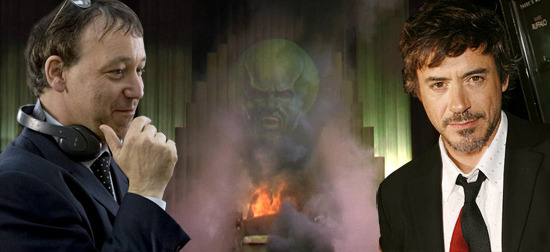 Robert Downey Jr. has not only stepped out from behind the curtain, he's gotten into the house and flown back home to Kansas. The Iron Man star has dropped out of Sam Raimi's upcoming Oz The Great and Powerful leaving the project, which has just hired a unit production manager to start designing sets, without a title character. The film is about "a young illusionist with a grandiose attitude who is forced to flee a traveling circus. His hot air balloon is swept up by a tornado to the land of Oz, which is run by two magical wicked witches," according to the Hollywood Reporter, and now Disney is hoping to fill the lead role with an even bigger star: Johnny Depp. Read more about it after the jump.The Hollywood Reporter, who broke the news, doesn't give a reason as to why Downey left the project except to note that it's the second project shooting this year that he's been attached to and then departed (the other being Alfonso Cuaron's Gravity. He was replaced by George Clooney).
As for Depp, as we recently reported, he has a very full dance card in the next few months. He'll be shooting Dark Shadows with Tim Burton in April, finishing his Keith Richards documentary and then is set to co-star as Tonto in The Lone Ranger with frequent collaborator Gore Verbinski. And while Disney and producer Joe Roth have yet to lock down a start or release date for Oz, they reportedly are making the project a priority and want to shoot in the second half of this year. So, maybe, he can fit it in after Dark Shadows but that could potentially push production on The Lone Ranger back, possibly jeopardizing that project.
It's in Disney's best interest for Depp to do both films, of course, but let's assume for a second that he can't. Would you rather see him as Oz or Tonto? After reading what he said about playing Tonto ("It's a real opportunity for me to give a salute to [Native Americas]") I feel like he'd pledge allegiance to Verbinski before Raimi if push came to shove. What do you think?